Hawkeye Fan Shop — A Black & Gold Store | Kinnick Edge | Hawk Talk Monthly — Dec. 2017 | Pinstripe Bowl Web Site | Official Bowl Tour site | Pinstripe Bowl Tickets | Pinstripe Bowl Coverage
Editor's Note: The following first appeared in the University of Iowa's Hawk Talk Daily, an e-newsletter that offers a daily look at the Iowa Hawkeyes, delivered free each morning to thousands of fans of the Hawkeyes worldwide. To receive daily news from the Iowa Hawkeyes, sign up HERE.
By DARREN MILLER
hawkeyesports.com
BRONX, New York — Anthony Nelson spent more than three quarters of Wednesday's New Era Pinstripe Bowl trying to solve the frozen, slick Yankee Stadium turf. Every play was a test to see how fast he could go or how quickly he could pivot without face-planting.
 
The big breakthrough came for the University of Iowa sophomore defensive end with 4 ½ minutes to play in a deadlocked game against Boston College.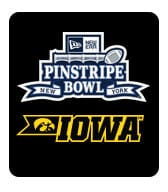 Then the Eagles were forced into a third-and-8 from midfield.
 
"I was able to get the right footing," Nelson said.
 
Nelson reached Boston College quarterback Darius Wade six yards into the backfield, forcing a fumble that junior Parker Hesse recovered.
 
"It was a normal play, everybody was trying to get a rush and help the defensive backs," Nelson said. "I got enough footing and was able to go fast enough to get the edge and ended up at the quarterback."
 
What followed was a 27-yard run by Akrum Wadley, the hometown hero who parlayed 283 all-purpose yards into an MVP award, a 17-yard completion from quarterback Nate Stanley to Nate Wieting, and a 1-yard touchdown run by fullback Drake Kulick…on his second rushing attempt of the season.
 
Final score: Iowa 27, Boston College 20.
 
"In a game like this, you never know," said Iowa head coach Kirk Ferentz. "We were having a hard time coming up with anything to slow them down. To get the stop and turnover gave us a spark and when you are in a game like this, sparks are huge. It is not a shock, Anthony has a really good first step."
 
Nelson's good first step is usually apparent when surfaces are more conducive for football rather than ice hockey. Wednesday's weather was clear and cold at Yankee Stadium with wind chill at 13 degrees. The turf was so slick, some players even tried switching to tennis shoes.
 
"It was fun, but frustrating," Nelson said. "It was like a new challenge and brought something different to the game: not being able to do things I usually can, like being able to put your foot in the ground and cut."
 
The Hawkeyes won for the eighth time this season (against five losses) and finished a season with a victory for the first time since Dec. 28, 2010, when they defeated Missouri in the Insight Bowl.
 
When the bowl matchups were announced, the 2017 New Era Pinstripe Bowl looked like an even tussle on paper and in the film room. In the days leading to kickoff, both coaches said the victor would be the team that forced turnovers and exceled on special teams.
 
That team was Iowa. The Hawkeyes were plus-3 in turnovers (two interceptions and one fumble), Iowa's Miguel Recinos was perfect on two field goals (the Eagles were 2 for 3), and Wadley had kickoff returns of 72, 25, 19, 40, and 15 yards.
 
"Coach (Ferentz) is always talking about playing complementary football and overcoming adversity," Wadley said. "Special teams played a key in the victory — I had some blockers that believed in me and we drew up some good schemes — shout out to coach (LeVar) Woods — and we stuck to the game plan."
 
On the third play from scrimmage, Iowa junior free safety Jake Gervase intercepted Wade and returned it 29 yards to Boston College's 6-yard-line. A 24-yard field goal by Recinos put the Hawkeyes ahead, 3-0.
 
"We knew both teams would be predominantly run throughout the game and when they passed we had to take advantage and try to force turnovers," Gervase said. "We got one on the first drive, which was a momentum-starter for us. Any time you can create turnovers and get the ball back to the offense is big."
 
After Iowa took a 27-20 lead, All-America cornerback Josh Jackson collected the team's third turnover with his school record-tying eighth interception of the season.
 
Another key? Iowa was penalized three times for 20 yards, Boston College had six for 57 yards.
 
"These guys kept pushing forward," Ferentz said.
 
And they pushed their way to the 2017 New Era Pinstripe Bowl trophy.