Hawkeye Fan Shop — A Black & Gold Store | Fight For Iowa | Hawk Talk Monthly — December
By JAMES ALLAN
hawkeyesports.com
IOWA CITY, Iowa — The University of Iowa men's basketball team's guard rotation will look different during Friday's nonconference finale against Northern Illinois.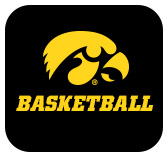 The Hawkeyes will be down to four guards now that freshman Connor McCaffery will be sidelined for an indeterminate period of time after undergoing a tonsillectomy Wednesday morning at the University of Iowa Hospitals and Clinics.
 
"His body has not responded to recovering from mono and strep," Iowa head coach Fran McCaffery said during a Thursday teleconference. "He can't get his body back to where it needs to be. There is no explosiveness, conditioning, and he can't get in shape physically with his wind or his body responding to be able to drive, take off, and push off. He's out for a while."
 
Awhile could mean several weeks or it could be for the remainder of the season; Connor McCaffery could seek a medical redshirt from the Big Ten Conference for the 2017-18 season.
 
"It if he can't get to where he needs to (we'll seek a redshirt), said Fran McCaffery. "If he plays in a game past the midway point, a redshirt isn't a possibility. He has a case, but it has to be approved."
 
On Friday, the Hawkeyes will run with sophomores Jordan Bohannon, Isaiah Moss, and Maishe Dailey, and junior Brady Ellingson at the guard position.  Nicholas Baer and Dom Uhl will be additional options.
 
"(Nicholas and Dom) are veterans, they know the plays," said Fran McCaffery. "They can guard twos and ones. We'll be fine."
 
Regardless of Connor McCaffery's status, Fran McCaffery says Dailey has earned more playing time based on his early-season production. He scored a career-high 16 points in Iowa's 80-73 neutral site win over Colorado on Dec. 22 to boost his scoring average to 5.8 points per game.  Dailey is third on the team with 15 3-pointers.
 
"He has played well and blossomed with the opportunity," said McCaffery. "He played well in the Cayman Islands and has played well ever since. He is not a mistake guy, he makes shots, is a good passer, he takes advantage of his length, and is a good defender.
 
"He was going to play a lot no matter what; he has earned that."
 
Before resuming Big Ten Conference play Jan. 2 against Michigan, the Hawkeyes will face a test Friday against Northern Illinois.  The Huskies are 7-5 overall, which includes a 69-63 win over Illinois Chicago on Dec. 21.
 
Three NIU players are averaging in double figures, including Eugene German, who averages 19.8 points with a 47.6 field goal percentage. German has been the Huskies' leading scorer in eight games, which includes a 28-point outing in a 94-80 road loss at Iowa State.
 
"I like their team," said McCaffery. "They're quick, have multiple scoring options, and have depth.  The German kid is terrific.
 
"If you were to evaluate a lot of our nonconference opponents, they are one of the better teams we would play.  We have played a difficult schedule and this would be another team that is of high caliber."
 
Friday's game will begin at 7:05 p.m. (CT) on Mediacom Court inside Carver-Hawkeye Arena. The game will be streamed on BTN Plus on BTN2Go with Alec Giannakopoulos and Jess Settles on the call.
 
OF NOTE… Iowa enters the game on a season-best four-game winning streak. The Hawkeyes have won all seven meetings all-time against Northern Illinois… junior Ahmad Wagner is questionable as he is still recovering from his ankle injury suffered against Southern Utah on Dec. 19.