Hawkeye Fan Shop — A Black & Gold Store | 24 Hawkeyes to Watch 2017-18 | WBB Tickets | Hawk Talk Monthly — December 2017
By DARREN MILLER
hawkeyesports.com
IOWA CITY, Iowa — Two nationally ranked women's basketball teams, both on a roll, meet Sunday on Mediacom Court inside Carver-Hawkeye Arena when No. 19 Michigan (12-2 overall, 1-0 Big Ten) travels to No. 21 Iowa (13-1, 1-0).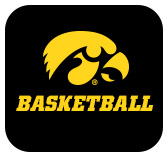 The Wolverines have won eight games in a row, Iowa is on a six-game winning streak. The main difference is that Michigan has used the same starting lineup all 14 times while the Hawkeyes have had seven different players start games. The latest lineup switch had sophomore Amanda Ollinger replacing sophomore Makenzie Meyer, who was lost at least two weeks with a broken bone in her hand.
 
"We're trying to win basketball games and now we're a totally different team than we were at the beginning of the year," Iowa head coach Lisa Bluder said Friday during a teleconference. "We're trying to make adjustments on the fly — every game is a new challenge because we're trying to make changes in our lineups and get people familiar with positions. This will be an incredibly tough game, hopefully we can use our home court advantage."
 
The Hawkeyes were 56-46 winners at Wisconsin on Dec. 28, their first game without Meyer in the lineup. Ollinger (eight rebounds, no points in 23 minutes) and junior Carly Mohns (five rebounds, three points in 17 minutes) shared Meyer's minutes.
 
"(Amanda) did well, she got eight rebounds, five offensive," Bluder said. "I think we're a better rebounding team with this lineup, but we need (Amanda) to be more of an offensive threat and she can be. We need her to step up and do that.
 
"For the first time playing on the Hawkeyeperimeter all year, (Carly) ends up 3 of 4 from the free throw line, gets five rebounds, two offensive. For the first time out, putting a kid in that position, luckily she is experienced and has been around the block, so that helps. Her athleticism and size is good out there."
 
Michigan is led by senior Katelynn Flaherty, who averages 22.7 points and 3.8 assists per game. She has made 45 3-point field goals and shoots 39.1 percent from distance. There promises to be a great battle in the post between Iowa's Megan Gustafson and Michigan junior Hallie Thome. The 6-foot-5 Wolverine averages 16.6 points per game and is shooting 65.6 percent from the field. She averages 7.1 rebounds a game. Gustafson averages 22.1 points and 12.6 rebounds a game and shoots 67.9 percent from the field.
 
"Katelynn Flaherty is one of best scorers in conference," Bluder said. "She is as good of a scorer as anybody we have seen this year. Hallie Thome is a terrific post player. It will be two terrific posts going at each other."
 
Sunday marks the only regular-season meeting between Iowa and Michigan. The Wolverines won the lone meeting last year, 72-70, in Ann Arbor, Michigan.
 
"We know the competition gets a lot harder, hosting Michigan," Bluder said. "Having the opportunity to play at home is a great thing on New Year's Eve day. We're looking forward to playing a great team."
 
Sunday will be a White Out in Carver-Hawkeye Arena. Fans are encouraged to wear white. Tip-off is set for 3 p.m. (CT).