Hawkeye Fan Shop — A Black & Gold Store | Fight For Iowa | Hawk Talk Monthly — December
Editor's Note: The following first appeared in the University of Iowa's Hawk Talk Daily, an e-newsletter that offers a daily look at the Iowa Hawkeyes, delivered free each morning to thousands of fans of the Hawkeyes worldwide. To receive daily news from the Iowa Hawkeyes, sign up HERE.
By RICK BROWN
hawkeyesports.com
IOWA CITY, Iowa — There's an art to dealing with double trouble, as Tyler Cook has discovered.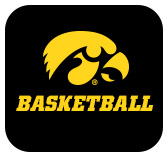 The 6-foot 9-inch sophomore forward on the University of Iowa's men's basketball team struggled to handle double-team attention from opponents earlier in the season.
 
But now he has a better grasp of how to deal with it, while setting the table for his teammates.
 
"I'm expecting it now at the start of games, instead of being surprised by it like I was before," Cook said. "I have the experience of being double-teamed a bunch of times. I'll continue to get better."
 
Cook's progress against opponents' double-team approach is just one reason why the Hawkeyes look to be an improved team as they return to Big Ten play.  The team that lost six of seven games in one stretch, including conference games against Penn State and Indiana, takes a five-game winning streak into today's 6 p.m. (CT) game with Michigan (11-3, 1-1 Big Ten) on Mediacom Court inside Carver-Hawkeye Arena.
 
"We're better collectively," said Iowa head coach Fran McCaffery. "Our defense is better. Not where it needs to be, but better. We're handling the ball better, we're rebounding, and we're sharing it."
 
Turnovers are down, too, with the exception of 19 miscues two games ago in a victory over Colorado in Sioux Falls, South Dakota. But just two of those turnovers were in the final 14 minutes. Iowa had only eight turnovers in a 99-75 victory over Northern Illinois on Friday, and three of them came in the final six minutes of the one-sided affair.
 
Put it all together and Iowa, 9-6 overall, returns to Big Ten play in a better state of mind.
 
"I feel a lot better where we are," McCaffery said. "We've won five in a row. Now we have a great opportunity against a good Michigan team."
 
The Hawkeyes had 36 field goals on a school record-tying 34 assists against Northern Illinois. In the second half, it was 16 field goals on 16 assists.
Cook leads Iowa in scoring at 13.9 points a game. That's up slightly from 12.3 points as a freshman. He has also logged 24 assists, one shy of his total in 27 games his rookie season.
Cook got off to a fast start against the Huskies, scoring nine of Iowa's first 13 points. He finished with 17.  During his 17 minutes on the floor, Cook also made Northern Illinois pay for double-teaming him by finding Nicholas Baer and Isaiah Moss for 3-pointers and dropping the ball to a cutting Ryan Kriener for a dunk.
 
"His recognition was special," McCaffery said. "His decision making is good. He is a special kid. He had it going and could have tried for a big night for himself, but when he was flashing to the high post, guys are dropping to the basket and he's dropping passes.
 
"He's kicking it out to 3-point shooters. That's what he has to do for us to be as good as we can be. Ultimately he's showing that he's a complete player. That's what you want."
 
Cook has earned the reputation for being a powerful dunker, but it's his mid-range game that deserves some attention. Cook started Friday's game with a 15-foot jumper from the left baseline. He made all three mid-range jumpers he attempted.
 
"That's a game-changer for us when he's doing that," McCaffery said. "We have a lot of guys who can make that shot. But when you have a guy that's a handful in the post that's also making that shot and also finding people, now you really put them in a box and they have to come up with something."
 
The jumper outside the paint will continue to be part of Cook's game.
 
"If I'm making those shots, I'm helping myself and my teammates as well," Cook said. "So I'm going to keep trying to do that."
 
Cook has attempted just five 3-pointers this season, making one. But he won't be shy about shooting that deep, either.
 
"If I'm open I'm going to take them," Cook said. "Coach has given me the green light."
 
The Hawkeyes view those losses to Penn State and Indiana as lost opportunities, but no one is looking back.
 
"We're moving to the next stretch of conference play, and I think we're in a better place as a team," Cook said. "So I'm excited to get going against Michigan."