Hawkeye Fan Shop — A Black & Gold Store | 24 Hawkeyes to Watch 2017-18 | Hawk Talk Monthly — January 2018 | WBB Tickets
By DARREN MILLER
hawkeyesports.com
IOWA CITY, Iowa — The last time the University of Iowa women's basketball team took the floor following a loss, the Hawkeyes turned it into a seven-game winning streak.
 
No. 17 Iowa (14-2 overall, 2-1 Big Ten) returns to play Sunday at Illinois (9-8, 0-3), three days after losing at No. 13 Maryland, 80-64.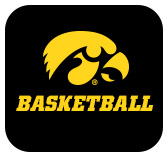 "I woke up excited to get back on the floor and have the opportunity to prove ourselves again," Iowa head coach Lisa Bluder said Friday during a teleconference. "I want to get back on the court."
 
Illinois has the attention of the Hawkeyes. Last season in its Big Ten opener, Iowa was stunned at Illinois and lost, 70-65. Two weeks later, the Hawkeyes defeated the Illini by 20 points at home.
 
"You have to be fully focused and respect every opponent and be ready to play every game," Bluder said. "The Big Ten is a tough conference — (defeating) Illinois on its home court is something we couldn't achieve last year. We will use that reminder to get our team focused for this game."
 
Through 16 games, being focused isn't something Bluder worries about with this team.
 
"It hasn't been a problem for our team to be focused on practice and getting ready for the next game," she said.
 
An area of concern is Iowa's assist-to-turnover ratio, especially in light of being without point guards Tania Davis (for the season) and Makenzie Meyer (broken bone in her hand). In three Big Ten game, the Hawkeyes have averaged 20 turnovers and 16 assists per game. On Thursday at Maryland, Iowa had 23 turnovers and 17 assists.
 
"It is very alarming," Bluder said. "High assist, low turnover is something we have always prided ourselves on. It is frustrating when we're making unforced turnovers or rushing ourselves and making turnovers. It will take some growing pains to get that under control."
 
The Hawkeyes found themselves in a 31-15 hole with 32 seconds left in the first quarter at Maryland. Last season in the loss at Illinois, Iowa trailed 21-14 with less than two minutes left in the first quarter.
 
"(Getting off to a fast start) is good any time, whether you're on the road or at home," Bluder said. "When you're on the road and you dig a hole, it's a lot harder to get out because you don't have the crowd behind you. Mentally it is a little harder."
 
After trailing by 16 points near the end of the first quarter at Maryland, the Hawkeyes regrouped and the teams played to a 49-49 deadlock the rest of the way. Bluder called Thursday's first quarter her team's "worst quarter of basketball all year."
 
"I'm not going to get hung up on one quarter when we have played 16 games," Bluder said.
 
Iowa and Illinois tip off Sunday at 1 p.m. (CT) from State Farm Center in Champaign, Illinois. The game will be televised by BTN.