Hawkeye Fan Shop — A Black & Gold Store | 24 Hawkeyes to Watch 2017-18 | Hawk Talk Monthly — January 2018 | WBB Tickets | Game Notes
By DARREN MILLER
hawkeyesports.com
IOWA CITY, Iowa — Lisa Bluder surveyed the court Sunday during the University of Iowa women's basketball practice and she didn't see a single hanging head. The energy level was good and the nationally ranked Hawkeyes appeared ready for their next challenge.
 
What Bluder saw on the court was encouraging and not all that surprising, despite the fact Iowa lost to Purdue, 76-70, a day earlier inside Carver-Hawkeye Arena.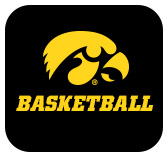 "We had a good practice (Sunday), exactly how you want a team to bounce back," Bluder said Monday during a teleconference. "We need to bounce back in a hurry."
 
The No. 17 ranked Hawkeyes (15-3 overall, 3-2 Big Ten) are in Lincoln, Nebraska, on Tuesday where they play Nebraska (12-6, 3-2) beginning at 7 p.m. (CT) in Pinnacle Bank Arena.
 
The Cornhuskers are third in the conference with 8.1 made 3-point field goals per game. Nine Nebraska players average more than 11 minutes of playing time per game.
 
"This is a team that shoots the 3 really well and has a lot of depth, which is something we don't have," Bluder said.
 
Nebraska's Big Ten victories have come at Minnesota, Northwestern, and Illinois in succession. The Cornhuskers have lost to Ohio State (by 12 points) and to Michigan (by five points in overtime) at home.
 
Iowa is on a two-game road swing that begins in Nebraska and concludes Sunday at Minnesota. League-leading Ohio State comes to Iowa City on Jan. 25.
 
"This is a tough stretch," Bluder said. "You have two road games and then Ohio State as your home game after that. It is three tough games in a row. It would be nice to pick up a road victory, because they are hard to come by. That has to be the goal going into the week."
 
Iowa junior center Megan Gustafson is coming off a career-high 37-point performance in the loss to Purdue. She also pulled down 14 rebounds. Senior Chase Coley was the only other Hawkeye in double figures with 10 points. Gustafson and Coley combined to make 22 of 33 field goals against the Boilermakers (66.7 percent); the other six Hawkeyes made nine of 34 field goals (26.5 percent).
 
"My dream team is five people (scoring) in double figures," Bluder said. "I don't like it when we have games where Megan has 37, Chase has 10 and everybody else is in single figures. That's not a style I love, but we are going to do what it takes to win.
 
"It makes Megan's job a lot easier if we have other people involved. If we're just a one-person show, if you stop that one person, then you have us beat. I don't want to be like that. I want to have a great player in Megan, but I want to have a surrounding cast that can step up, accept responsibility to make shots, and make plays. That's what we have to have. You're too easy to guard if you have one person doing all the work."
 
Sophomore guard Makenzie Meyer will not be back in the lineup against Nebraska. She will have another X-ray on her hand Wednesday and her status will be re-evaluated then.