Hawkeye Fan Shop — A Black & Gold Store | 24 Hawkeyes to Watch 2016-17 | Fight For Iowa | Hawk Talk Monthly — September 2017
Editor's Note: The following first appeared in the University of Iowa's Hawk Talk Daily, an e-newsletter that offers a daily look at the Iowa Hawkeyes, delivered free each morning to thousands of fans of the Hawkeyes worldwide. To receive daily news from the Iowa Hawkeyes, sign up HERE.
By ANNE RILEY
hawkeyesports.com
IOWA CITY, Iowa — In Sasha Schmid's first season as head coach of the University of Iowa women's tennis program, she saw the Hawkeyes jump from 14th to seventh place in the Big Ten Conference standings.
 Iowa won five conference matches, one year after winning none. It was the second largest single-season improvement in program history, and a great start to a new era of Hawkeye tennis. But as Schmid will say, it was just a start.
"This year is going to be a little different," Schmid said. "Last year the first thing we needed was to have pride and confidence in things other than our past results. We found that in our fitness and our work ethic."
 
"This year that stuff is nothing new and we need to maintain the progress that we built up. The culture is great and we have more confidence. Now we need to be more mindful of excellence, and now is where that gets hard."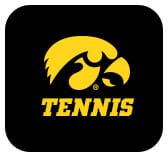 The Hawkeyes begin their season with a string of non-conference matches, starting Saturday at home against Creighton at noon (CT) and Northern Iowa at 6 p.m.
 
Schmid hopes to use the early portion of the schedule to get everybody's feet wet. That includes three freshmen, who for the first time will get a feel of what it is like to play as a team.
 
"We are all used to playing tennis individually, and when you can feed off the energy and momentum from your teammates, it can really turn a match and we need to use that to our advantage," Schmid said. "It is something we have talked about with the freshman, but it is impossible for them to understand until they experience it."
 
The three freshmen — Danielle Bauers, Danielle Burich, and Yufei Long — will follow the example set by three seniors — Montana Crawford, Zoe Douglas, and Anastasia Reimchen.
 
Crawford and Reimchen have been staples in the Hawkeyes lineup, and Douglas led Iowa with 16 singles wins last season.
 
"This team is led by Zoe Douglas, and I think that anyone on the team would tell you that," Schmid said. "With her competitiveness, fight, and the improvement she continues to show, she is just a good tennis player. We have seen her get quality results against very good opponents, and that definitely is an example for the rest of the team to follow."
 
The Hawkeyes will also lean on Elise van Heuvelen, the reigning Big Ten Conference Freshman of the Year and a first team All-Big Ten honoree, and junior Adorabol Huckleby, who teamed with van Heuvelen to finish the season ranked No. 74 in the ITA doubles rankings.
 
"Our top players are playing high level tennis, and it's helping the entire team," Schmid said. "Their shot selection has improved, and if we can continue to get better strategically and technically, it will really make a difference at the end of each match."
 
Schmid wants to see the Hawkeyes climb into the top five of the Big Ten this season, and that means winning the close ones.
 
"We will play a lot of 50/50 matches and I've told the team that there are a lot of really difficult battles from beginning to end, non-conference too," Schmid said. "What we need to do is bring effort, competitiveness, and grit to those matches. That is going to decide the balance of the season."