Hawkeye Fan Shop — A Black & Gold Store | 24 Hawkeyes to Watch 2017-18 | Hawk Talk Monthly — January 2018 | VIDEO — Jenny Kimbro
Editor's Note: The following first appeared in the University of Iowa's Hawk Talk Daily, an e-newsletter that offers a daily look at the Iowa Hawkeyes, delivered free each morning to thousands of fans of the Hawkeyes worldwide. To receive daily news from the Iowa Hawkeyes, sign up HERE.
By DARREN MILLER
hawkeyesports.com
IOWA CITY, Iowa — Ask Jenny Kimbro about personal accomplishments and she will tell you about team success.
 
She was that way as a seven-time Illinois high school state track and field champion and she is that way as a sophomore multi-event performer for the University of Iowa.
 
Kimbro is from Catlin, Illinois, and you will have an easier time researching her high school titles than hearing about them from her. Prior to her 2016 senior season at Salt Fork High School, Kimbro had already qualified for the Class 1A state meet in 11 events, placing eight times and winning four individual state championships.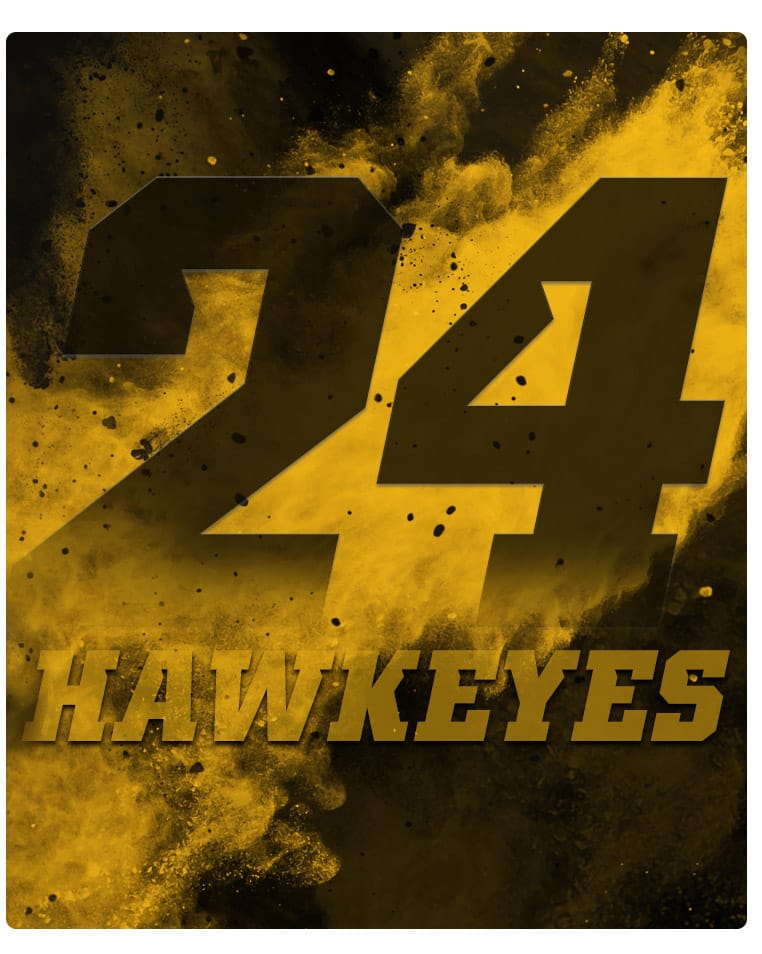 "My senior year, my team won the overall state championship," Kimbro said. "That was probably the best moment."
 
Salt Fork scored 52 points at the 2016 state meet and Kimbro won the 300-meter hurdles (42.66 seconds), 100 hurdles (13.87), and long jump (17-feet, 10 ¼ inches) and placed third in the 200 dash (25.35).
 
"Our teams were pretty successful in high school," Kimbro said.
 
Understood, Ms. Humble.
 
Kimbro also played volleyball and basketball at Salt Fork and in the summer, she was shortstop for a traveling softball team. Her versatility as a high school track and field athlete — she competed at state in five different events — was not lost on Joey Woody, Iowa's director of track and field.
 
About a month into hurdle practice as a college freshman, Woody wondered if Kimbro had ever thrown a javelin. She hadn't, but from that day forward she began training with Iowa's multi-event group.
 
In her first season, Kimbro placed sixth at the Big Ten Championships in the indoor pentathlon and seventh in the outdoor heptathlon.
 
"It has been a lot of fun because it got me out of my comfort zone," Kimbro said. "I get to do a bunch of events I never thought I would get to do. I never thought I would get to throw shot put or javelin or run 800s. It has been exciting."
Kimbro scored 3,715 points in the pentathlon at the Black & Gold Premier on Jan. 27, 2017, putting her third all-time in the Hawkeye record book. She scored 5,121 points in the heptathlon at the Jim Click Shootout in Tucson, Arizona, from March 6-7, 2017, for the fourth-best total in school history.
 
"I saw her athletic ability to contribute as a potential multi-event athlete," Woody said. "She had never done most of the events, except for the hurdles and long jump, so it was a lot of learning last year. She stepped in, had an open mind, and ended up being a Big Ten point-scorer both indoor and outdoor. Now she is setting herself up to being a potential NCAA qualifier."
 
Kimbro comes from an athletic family. Her father played football at St. Ambrose in Davenport, Iowa, her mother participated in multiple sports in high school, and her older twin brother, Josh, plays baseball for Parkland College in Champaign, Illinois.
 
"My brother and I started sports at a young age," Kimbro said. "It has always been in the family."
 
Kimbro did a lot and accomplished a lot in high school. But there was one thing that avoided her: air travel. Most Hawkeyes were ho-hum last February when they boarded a flight for the Tyson Invitational in Fayetteville, Arkansas. Kimbro was beside herself.  
 
"I was super-excited when I found out we got to fly," Kimbro said. "First of all, I was excited to go to a meet of that magnitude."
 
An extra year of practice should make Kimbro more successful in her second season as a multi-event performer. The events for a pentathlon are 60-meter hurdles, long jump, shot put, high jump, and 800 meters; events for a heptathlon are 100-meter hurdles, high jump, shot put, 200 dash, long jump, javelin, and 800 run.
 
"Jenny is faster and more athletic," Woody said. "That is a tribute to the work she has done this year and in the summer coming into the season.
 
"She is getting more confidence. Usually in that second year you learn a lot about yourself and how to train for the event. She is resilient when it comes to training and that is a huge thing as a multi-event athlete, because you have to do so much during the week. Being able to adapt better to training — the learning curve has improved, so it's more about performance."
 
When it comes to season goals, Kimbro is, you guessed it, all about the Hawkeyes first.
 
"I want to be able to contribute to the team and score points at the conference meet that go toward the team standings," she said. "Hopefully I can do that again and improve on overall scores in the pentathlon and the heptathlon."
 
Kimbro will compete in her first pentathlon of the season when Iowa hosts the Larry Wieczorek Invitational from Jan. 19-20 in the University of Iowa Recreation Building.