Hawk Talk Monthly — January 2018 | Fight For Iowa | Hawkeye Fan Shop — A Black & Gold Store
Editor's Note: The following first appeared in the University of Iowa's Hawk Talk Daily, an e-newsletter that offers a daily look at the Iowa Hawkeyes, delivered free each morning to thousands of fans of the Hawkeyes worldwide. To receive daily news from the Iowa Hawkeyes, sign up HERE.
By RICK BROWN
hawkeyesports.com
IOWA CITY, Iowa — The emotion that Tom Davis carries inside him still rises to the surface on occasion.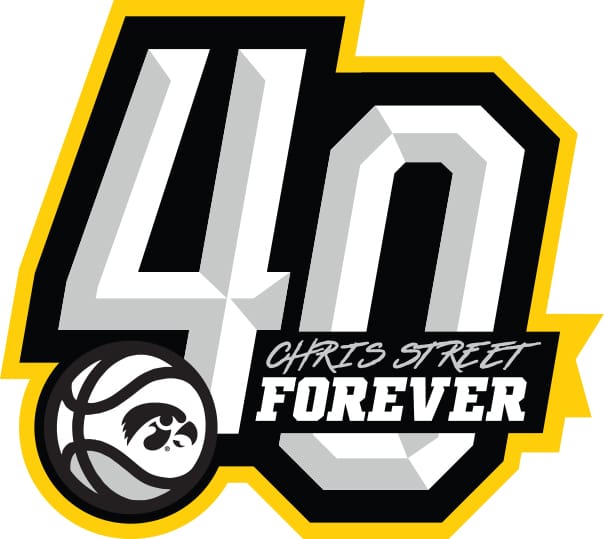 It usually happens when the former University of Iowa men's basketball coach is asked about one of his former players, the late Chris Street.
 
"I still have trouble talking about it today, which surprises me," said Davis, the winningest men's basketball coach in school history. "It comes back at you in waves."
 
Street, a fan favorite and a budding star for the Hawkeyes, was in the middle of his junior season when he was killed in an auto accident 25 years ago. It was Jan. 19, 1993, a day that lives in infamy in this state.
 
Street's father, Mike, and his friend and teammate, Wade Lookingbill, have experienced the same thing as Davis. That emotion percolates inside, and comes out when they least expect it.
 
That's not surprising. Chris Street was emotion in motion on a basketball floor, playing his way into the hearts of Hawkeye fans with his hustle, his desire, his work ethic, and his smile.  Whether he was waving his arms and harassing the in-bounds passer at the front of Davis's full-court pressure defense or celebrating after a dunk, Street's infectious personality could warm up a gym on the coldest of Midwestern nights. It took less than 21 years, and 73 games, for him to become an Iowa icon and one of the most popular student-athletes to ever wear a Hawkeye uniform.
 
The University of Iowa will honor Street today during the Hawkeyes' 11 a.m. (CT) Big Ten basketball game against Purdue at Carver-Hawkeye Arena.
 
Street's parents, Mike and Patty, and his sisters, Sarah and Betsy, will be in attendance along with some of his former teammates, coaches, and support staff.
 
After Street's passing, the university announced it would honor his memory by presenting a Chris Street Award annually. That award goes to a player who "best exemplifies the spirit, enthusiasm, and intensity of Chris Street."
 
Many of those Chris Street Award winners, and other teammates, will be on hand Saturday and introduced at halftime. That includes Adam Haluska, who won the Chris Street Award in 2005 and 2006.
 
"I'd take that award over an MVP or anything like that," Haluska said. "Just because I know what Chris Street stood for. And I know the criteria of what it takes (to win it).  It's a well-rounded person and a model teammate, somebody who played the way Chris played. He played every possession like it was his last."
 
There will be video presentation to kick off halftime ceremonies, covering Street's life and legacy. During the game, exclusive video interviews with former student-athletes and coaches talking about Street will be played on the Mediacom HawkVision videoboard.
 
Hawkeye players will wear Street-inspired shooting shirts during warm-ups. The Iowa coaches will wear lapel pins in his honor. Street's No. 40 jersey will cover the first chair on the Iowa bench, just like it did when the school recognized the 20th anniversary of Street's passing during a game against Wisconsin on Jan. 19, 2013. Fans are encouraged to wear white for the designated "Whiteout' game.
 
Fans will also be able to purchase commemorative t-shirts like the ones the players will wear during warmups. White wristbands with "CMS — Forever 40′ will be distributed to fans while supplies last.
 
In the summer after Street's sophomore season at Iowa, he played on a Big Ten team that toured Europe. Former Purdue player Matt Painter, now the Boilermakers' head coach, was on that team as well.
 
Painter recalled telling Street that his coach at Purdue, Gene Keady, loved the way he played and suggested that Street transfer.
 
"Obviously I was joking with him," Painter said. "But he was adamant. 'Oh, no, I'm a Hawk. I love it. I love the state of Iowa. I grew up wanting to be a Hawkeye. It's everything I dreamed about.'"