Hawkeye Fan Shop — A Black & Gold Store | 24 Hawkeyes to Watch 2017-18 | Hawk Talk Monthly — January 2018 | WBB Tickets
By DARREN MILLER
hawkeyesports.com
IOWA CITY, Iowa — Chase Coley fell in love with Big Ten women's basketball by watching games at Williams Arena in Minneapolis.
 
The University of Iowa senior forward returns home for a final time Sunday to face Minnesota (15-5 overall, 4-3 Big Ten) in a game that tips off at 3 p.m. (CT). The last time Coley played in Williams Arena, she scored 21 points with 11 rebounds, but the Hawkeyes lost, 78-76.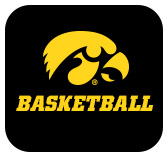 "It's exciting to go back and play in front of my family and friends with my new family and friends," Coley said. "(Minnesota players) are the girls I grew up watching; I lived 10 minutes from campus and it opened my eyes to the other teams in the Big Ten. I came here and found my home at Iowa, which I love."
 
Despite being down two starters, No. 20 Iowa has managed a record of 15-4 overall, 3-3 in the Big Ten. On the Hawkeyes' last trip to Minnesota, Coley wasn't the only player with a double-double. Junior center Megan Gustafson pulled down 19 rebounds and scored 14 points. In six league games this season, Gustafson averages 27.2 points and 14.3 rebounds per game.
 
"Our offense is about setting each other up and taking what the defense gives us," Coley said. "None of us go into the game expecting to get this many (points). If they aren't guarding Megan, we're going to give her the ball. If they are double and triple-teaming Megan, we're going to look for our shooters outside and the other post in the game. We're very much about taking what the defense gives us and setting each other up."
 
Because of injuries to starting guards Tania Davis and Makenzie Meyer, it has been a chilly month of January for Iowa, which has gone 1-3 in 2018. Iowa head coach Lisa Bluder said Meyer has a chance to play Sunday, but the decision will be made by the team athletic trainer and doctors.
 
"If I had that call, I probably would have had her playing a little bit a go," Bluder said. "We'll see. I'm cautiously optimistic, but that falls into someone else's hands."
 
Meyer has not played in a Big Ten game this season. In 13 nonconference games, she averaged 11.3 points and 5.0 assists per game.
 
With Meyer out, sophomore forward Amanda Ollinger has seen her role increase. On Tuesday at Nebraska, Ollinger played 21 minutes, scoring 12 points with eight rebounds.
 
Was her performance against the Cornhuskers a breakthrough moment?
 
"Boy, I hope so," Bluder said. "She rebounded really well. Then she got three instant put-backs, then she got a steal and a layup. She has always crashed all year, sometimes the ball falls your way, sometimes it doesn't. I thought she played her best game that I have seen her as an Iowa Hawkeye on Tuesday."
 
Sunday's road game is the fifth time in the last seven games that Iowa has been away from Carver-Hawkeye Arena. The Hawkeyes have dropped three of their last four, but Gustafson said her team remains calm.
 
"The most important thing is to relax," she said. "Everyone has off shooting nights, so you never have to doubt yourself. Even if you miss a couple, it's OK, you will hit the next couple shots. Being able to have that belief in yourself and your teammates is important right now."
 
Iowa leads the all-time series with the Gophers, 49-25. Sunday's game will be broadcast on the Hawkeye Radio Network with Rob Brooks and Jamie Cavey Lang with the call. Action will be televised on BTN Plus.