Hawkeye Fan Shop — A Black & Gold Store | 24 Hawkeyes to Watch 2017-18 | Hawk Talk Monthly — January 2018
Editor's Note: The following first appeared in the University of Iowa's Hawk Talk Daily, an e-newsletter that offers a daily look at the Iowa Hawkeyes, delivered free each morning to thousands of fans of the Hawkeyes worldwide. To receive daily news from the Iowa Hawkeyes, sign up HERE.
By JAMES ALLAN
hawkeyesports.com
IOWA CITY, Iowa — Bennet Huang and JD Reive's relationship began more than a decade ago in California. That connection was key in getting Huang to join the men's gymnastics program at the University of Iowa.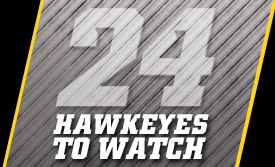 Reive was an assistant men's gymnastics coach at Stanford when he first met Huang.  Huang's youth program worked out at the Cardinal's training facility.  
 
"He was incredible as a little kid," said Reive, who is in his eighth season as Iowa's head coach. "When he joined us, you knew immediately (how good he was). He was good at a level five when he was six or seven years old and you saw that Type A drive, the family was on board and they had that same drive.
 
"I foresaw where he was going to go, but you never know. Ten years go by and I watched him mature, make Junior National Teams, and start competing internationally."
 
Huang went on to become an accomplished junior gymnast.  He was a five-time Junior National Team member and a seven-time Northern California All-Around champion. He won all-around, floor, and pommel horse at the 2017 JO Nationals and was the floor champion and runner-up on the all-around at the 2016 P&G Championships.
 
Huang remembers his first state title as a 7-year-old.  
 
"The previous year I had done poorly to my standards," said Huang. "I wasn't terrible, but winning my first state championship was a big deal. It made me happy and made me want to train harder."
 
When Reive left Stanford to become head coach at the University of Iowa following the 2010 season, he kept tabs on Huang. When it came time to ramp up Huang's recruitment, Reive had a card in his back pocket.
 
"He's someone I had such a connection with as a kid, I watched his entire career," said Reive. "When it came time to recruit him, it was motivating to say, 'Alright, this is a big opportunity for us to bring him to Iowa, get him to leave California, and be a part of our program.'
 
"It was a natural fit. We had a joke that his mom spent so much time raising my kid because I spent so much time with hers. We spent so much time with her family that it was nice for her to be sending him off to us, knowing we are caring for him (at Iowa) and helping him move into the professional phase of what he is doing."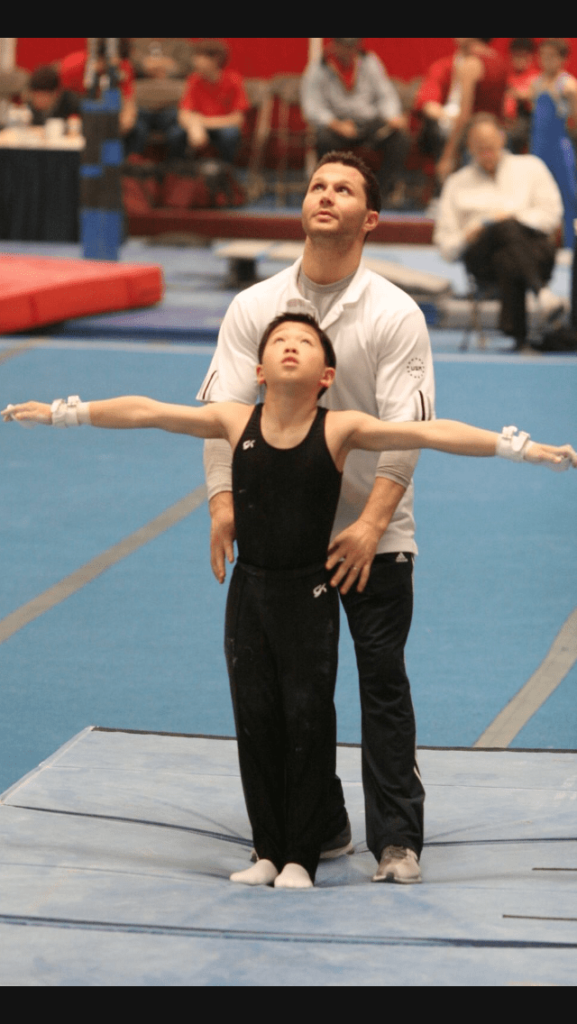 Huang is Reive's highest-ranked Iowa recruit. He had to fend off perennial California powers Stanford and California-Berkeley, while convincing Huang to venture to the Midwest.
 
"I was looking at some other schools and I took recruiting trips to other schools, but once I came (to Iowa), it felt welcoming," said Huang. "I felt like it was a supportive environment.
 
"I knew what (JD's) training method was and I liked it. I liked the facilities and staff being supportive of both sides of my life in gymnastics and academics."
 
Academics played a big role in Huang's decision. He is majoring in music performance as he is an accomplished musician on the cello.
 
"He is probably a better musician than a gymnast and that's saying quite a bit," said Reive.
 
Huang started playing cello at 8-years-old. The training go hand-in-hand.
 
"The training and practicing is very methodical in both aspects," said Huang. "Going out and (playing cello) on the spot under pressure is something you learn with experience."
 
"It's the 10,000 repetition rule," said Reive. "Music and gymnastics: you can do them a million and one times to try to master it. Music has a longer life span, but it's cool to watch those two things come together and create that kid.
 
"His family is all about music. They are very much on top of that and the fact they have allowed him to be as good at gymnastics at the same time says a lot about his mentality and his willingness to practice a lot."
 
With his dedication to his craft and his wide-range of junior experience, Huang expects the transition to collegiate gymnastics will be smooth.
 
"It gives me a lot of confidence," said Huang. "Having so much competition experience within the nation and internationally helps me open my eyes to other gymnasts and helps me train more confidently and consistently.
 
"That junior experience, being out there with a lot of pressure and representing an entire country outside of the United States, is a big deal. Coming to Iowa, that is something I can relate to, representing more than yourself."
 
Huang's goals as a freshman are modest. He wants to contribute and be a consistent gymnast.
 
"I want to be the one they can count on to hit my routines," said Huang.
 
Reive believes Huang could impact the team across the board.    
 
"He has potential to contend for finals if not win events if we're in the right place as a freshman," said Reive. "He's going to compete in all-around and in six events, whether it is in an alternate or backup spot.
 
"He's going to be the one that is going to show up with that baller mentality, hit sets, and help us get momentum when we need it. He will help the team know how good they actually are."