Hawkeye Fan Shop — A Black & Gold Store | 24 Hawkeyes to Watch 2017-18 | Hawk Talk Monthly — January 2018 | WBB Tickets
By DARREN MILLER
hawkeyesports.com
IOWA CITY, Iowa — They don't play the same position, but two of the best women's basketball players in the Big Ten Conference (and country) will be on the same court at the same time Thursday when No. 25 Iowa hosts No. 12 Ohio State.
 
Hawkeye fans are aware of their double-double machine in Megan Gustafson, a 6-foot-3 center. Ohio State is led by Kelsey Mitchell, a 5-foot-8 guard who has been named first-team All-Big Ten three times and the Big Ten Player of the Year in 2015 and 2017.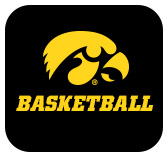 Both Iowa (15-5 overall) and Ohio State (16-4) have played 20 games. Mitchell averages 24.8 points (second in the nation) and 3.7 3-point field goals per game (sixth); Gustafson averages 23.6 points (fourth) and 12.8 rebounds per game (fourth). She is second in the country with a 67.1 field goal percentage.
 
"It is different because they are in different positions, so it's not really a direct matchup," Iowa head coach Lisa Bluder said Monday at a news conference. "But when you have two of the best players in the Big Ten on the court on the same night in the same place, it is pretty exciting."
 
It was an off night for Mitchell at Maryland on Monday. During a 99-69 loss to the Terrapins, Mitchell scored 15 points on 6 of 13 shooting (1 of 5 from 3-point) with seven assists, four turnovers, and two steals in 34 minutes. The 3-point field goal was significant, however. It was Mitchell's NCAA-record 442nd of her career; the 15 points moved her into eighth on the Division I women's basketball all-time career scoring list.
 
"If we could put a couple more people on the floor, it would be really nice," Bluder joked. "We have to try different types of defenses. You have to mix things up on them. You have to keep them off balance a little bit. (Mitchell) is explosive and is one of the best in America."
 
So is Gustafson.
 
She has 19 double-doubles in points and rebounds this season and 46 in her 87-game career. Gustafson scored 20 point with 10 rebounds on Jan. 21 at Minnesota.
 
"Megan needs to be included (in the Big Ten Player of the Year discussion)," Bluder said. "I think everyone thinks it is a forgone conclusion that Kelsey Mitchell will get it because she has gotten it — well deserved — the last few years. But I think Megan needs to be in the conversation."
 
Gustafson and Mitchell will attempt to lead their teams out of a rare losing skid. Iowa has dropped three games in a row and four of its last five; Ohio State has lost back-to-back games to Michigan at home and at Maryland.
 
"We have to keep believing that the hard work we have been putting in game-in and game-out and in practices is going to pay off," Gustafson said. "We played and fought so hard (Sunday at Minnesota) and it didn't end up in our favor. But we have to know that it will come into our favor eventually."
 
Iowa received a game-high 21 points from guard Kathleen Doyle at Minnesota, who made 7 of 14 field goals and 2 of 6 3-pointers. It was a nice bounce-back game for the sophomore guard, who, nearly a week earlier at Nebraska, shot 2 of 11 from the field and 0 of 4 from distance.
 
"If you improve every game and you're playing well on the road and just not getting those wins, hopefully we will play even better and get wins at home," Doyle said. "I'm hoping our fans will come out and support us like they have been all year and we will have a great finish to the year, even though we have hit this rough patch."
 
The Hawkeyes have played five of their first seven Big Ten games away from home.
 
Thursday's game will tip off at 7 p.m. (CT) from Mediacom Court inside Carver-Hawkeye Arena. The first 2,000 fans will receive a free Lisa Bluder Bobblehead. Bobbleheads will be distributed in sections A and NN.