Hawk Talk Monthly — January 2018 | Fight For Iowa | Hawkeye Fan Shop — A Black & Gold Store
By JAMES ALLAN
hawkeyesports.com
IOWA CITY, Iowa — Tuesday's 85-67 victory over Wisconsin was one of the University of Iowa men's basketball team's most consistent performances of the season.  The question looms, can the Hawkeyes do it again and again and again and again?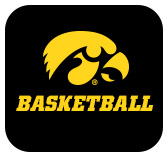 Iowa is 11-11 overall and 2-7 in league play at the halfway point of the Big Ten Conference schedule. Iowa head coach Fran McCaffery wants to see more success and an improvement in the team's level of play during the final nine games of the regular season.
 
In short, he wants to see consistency.
 
"We haven't been consistent, but we were the other night," McCaffery said during a Friday media teleconference. "But to successfully win in this league you have to play that way all the time. We want to continue to get better."
 
That starts Saturday when the Hawkeyes travel to Lincoln, Nebraska, for a 7:07 p.m. (CT) matchup at Pinnacle Bank Arena. Nebraska is one of the surprise teams in the Big Ten, sitting in a tie for fourth place with a 6-4 record. The Huskers are 15-8 overall.
 
"It's a tough environment, as tough, if not the toughest road environment in our league," said McCaffery. "They have a good veteran team and a good coach. The plan is to go there, be together, and play well."
 
The Huskers are led by a pair of transfers — Georgetown transfer James Palmer, Jr., and Miami (Florida) transfer Isaac Copeland, Jr.  Palmer leads the team, averaging 16.7 points, while Copeland averages 12.6 points and a team-best 6.3 rebounds.
 
"Those two guys are special," said McCaffery. "They're two of the better players in our league, plus they're veteran guys.  Those guys have helped. They already had (Glynn) Watson, (Anton) Gill, and (Evan) Taylor, then you had two other veteran guys and you have an experienced club.
 
"Those two guys have made a difference because not only are they good, but they're versatile. They both have terrific perimeter skills, they make 3s, put it on the deck, and they can guard bigger or smaller guys. It gives them great versatility with their lineup."
 
During the win over Wisconsin, McCaffery's rotation was tightened to nine players, although the ninth body — freshman Jack Nunge — played just two minutes.  McCaffery wasn't deliberately trying to shorten the bench, the final minutes tally actually made him go in the other direction.
 
"If anything, I am saying to myself, 'I have to get Jack more playing time,'" said McCaffery. "That kid deserves more playing time. He came in, made a nice move, and was active. His practives have been good and he has proven I need to play him more.
 
"Dom Uhl, the same thing. I rotated the three and we were good. I felt disappointed he didn't play. I am still in that mode."
 
Iowa's rotation will be limited again at Nebraska with Ryan Kriener and Brady Ellingson remaining in concussion protocol.
 
Saturday's game will be televised on BTN with Cory Provus and Jon Crispin on the call.