Hawkeye Fan Shop — A Black & Gold Store | 24 Hawkeyes to Watch 2016-17 | Hawk Talk Monthly — January 2018 | Meet Results
COLLEGE PARK, Md. — The University of Iowa women's gymnastics team recorded its third consecutive Big Ten win with a 196.000-195.350 victory at Maryland on Thursday evening at the XFINITY Center.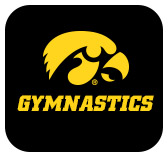 HEAR FROM COACH LIBBY
"I could not be more proud of this team and the effort they put forth tonight. Maryland is an excellent team, and it's tough to beat Big Ten opponents on the road. This win was a complete team effort. We needed every single person in order to win. These ladies continue to have an undeniable faith in each other's abilities. I love every second that I get the opportunity to take the floor with them. There is still a lot of work ahead of us this season, but for now, we are excited to be returning home with a win."
 
MEET HIGHLIGHTS
The Hawkeyes took an early lead and never trailed, capturing the victory and improving to 3-0 in Big Ten competition. Four GymHawks earned five titles to highlight the competition.
 
Iowa also registered season highs on bars, vault, and beam. Eight GymHawks registered 15 season highs, while four GymHawks recorded six career bests.
 
ALL-AROUND
Sophomore Charlotte Sullivan won the all-around with a career-high 39.300, while junior Nicole Chow followed in third with a 39.075 in her all-around debut. This is Sullivan's second all-around title in as many weeks.
 
BARS
Iowa began the competition on bars with a season-high 49.050 to take an early lead over Maryland, who opened with a 48.675 on vault. Sullivan took home the event title with a season-high 9.875. Chow finished in third with a career-high 9.825, and senior Melissa Zurawski placed fourth with a score of 9.800.
 
VAULT
The GymHawks maintained their lead (97.900-97.625) after registering a season-best 48.850 on vault. Junior Maria Ortiz earned her second vault title of the season with a season-high 9.825. Sullivan followed in second with a season-high 9.800, while senior Nikki Youd finished third with a 9.775.
 
FLOOR
The Hawkeyes posted a 48.925 on floor to extend their lead to 146.825-146.350. Senior Lanie Snyder won the event with a season-high 9.900. This marks her second floor title of the season. Zurawski placed third with a season-high 9.850.
 
BEAM
Iowa cemented the win with a season-high 49.175 on beam. Chow took home the title with a career-high 9.900. Youd followed in second with a season-high 9.850, while junior Rose Piorkowski and Sullivan tied for third with scores of 9.825. This marks a career high for Piorkowski and a season high for Sullivan.
 
UP NEXT
The GymHawks travel to Champaign, Illinois, to face the Fighting Illini on Feb. 2. The meet is slated to begin at 6 p.m. (CT) at the State Farm Center.