Hawkeye Fan Shop — A Black & Gold Store | 24 Hawkeyes to Watch 2016-17 | Fight For Iowa | Hawk Talk Monthly — January 2018
IOWA CITY, Iowa — The University of Iowa women's tennis team lost its first match of the season on Sunday to Washington State, 5-2, in Missoula, Montana. 
 
The Hawkeyes started off strong with a doubles win from the No. 1 position. Senior Zoe Douglas and freshman Yufei Long defeated Barbora Michalkova and Melisa Ates, 6-1. 
 
The No. 2 and No. 3 positions both dropped their matches, awarding the doubles point to Washington State.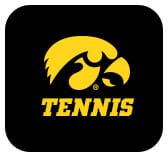 Sophomore Elise van Heuvelen and senior Montana Crawford lost to Guzal Yusupova and Tiffany Mylonas, 6-1, while senior Anastasia Reimchen and junior Adorabol Huckleby dropped their match to Aneta Miksovska and Michaela Bayerlova, 6-4. 
 
Van Heuvelen dropped her singles match at the No. 1 position to Michaela Bayerlova, 6-3, 6-2. 
 
Long got the Hawkeyes on the board at No. 3 singles with a straight set victory over No. 109 ranked Tiffany Mylonas, 6-4, 6-1. 
 
Douglas kept Iowa going and tied the match at two by defeating Guzal Yusupova, 7-6, 7-6 in the No. 2 position. 
 
"Zoe and Yufei earned incredibly hard fought singles wins against tough opponents so that is really great to see," said head coach Sasha Schmid. 
 
At the No. 6 singles position, Huckleby dropped her match to Melisa Ates, 6-4, 6-1. 
 
Reimchen lost her first set, 6-3, and forced a third-set tiebreaker by winning the second set, 7-5. She dropped the third set, 10-6.  
 
Crawford lost a tough match in the No. 5 singles position to Barbora Michalkova, 7-6, 7-6.
 
QUOTING HEAD COACH SASHA SCMHID
"This was a tough hard fought battle, disappointing to fall short especially because we had opportunity to close out sets and matches in some of the points that we lost.  But it's early in the season and terrific to have such a battle at this point in the year. We have to stay hungry and get back to work at practice to prepare for more tough matches next weekend."
 
UP NEXT
The Hawkeyes travel to Denton, Texas, to play North Texas on Feb. 3 at 11 a.m. (CT), and SMU in Dallas, Texas on Feb. 4 at 11 a.m.
 
Iowa 2, Washington State 5
Jan. 28, 2018 | 10 a.m. (CT) | Missoula, MT | PEAK Racquet Club 
 
Singles
1. Michaela Bayerlova def. Elise van Heuvelen, 6-3, 6-0
2. Zoe Douglas def. Guzal Yusupova, 7-6, 7-6
3. Yufei Long def. Tiffany Mylonas, 6-4, 6-1
4. Aneta Miksovska def. Anastasia Reimchen, 3-6, 7-5, 7-6 (4)
5. Barbora Michalkova def. Montana Crawford, 7-6, 7-6 
6. Melisa Ates def. Adorabol Huckleby, 6-4, 6-1
 
Doubles 
1. Douglas/Long def Michalkova/Ates, 6-1
2. Yusupova/Mylonas def. van Heuvelen/Crawford, 6-1
3. Miksovska/Bayerlova def. Reimchen/Huckleby, 6-4
 
 
Match Notes:
Iowa: 3-1
Washington State: 5-0
Order of finish: Doubles (1,2,3); Singles (1, 3, 2, 6, 4, 5) 
The all-time series is led by Washington State, 2-1