Hawk Talk Monthly — January 2018 | Fight For Iowa | Hawkeye Fan Shop — A Black & Gold Store | McCaffery Transcript (PDF)
By JAMES ALLAN
hawkeyesports.com
IOWA CITY, Iowa — The University of Iowa men's basketball team will have to contend with a lightning quick point guard when Minnesota comes to Mediacom Court on Tuesday night.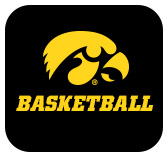 The Gophers' Nate Mason averages 15.8 points , 4.5 assists, and 3.9 rebounds, and he will lead visiting Minnesota (14-9, 3-7) into Carver-Hawkeye Arena for an 8:07 p.m. (CT) start.
 
"He can get wherever he wants with the ball," said sophomore Jordan Bohannon, who averages 13.7 points and 5.2 assists. "A lot of teams have struggled trying to stay in front of him. We'll try to limit him and it will come down to him getting the ball in the last 10 seconds of the shot clock and what he's going to try to do with a ball screen.
 
"If we get that buttoned up, I think we'll have a good chance to come out with a win tomorrow."
 
Buttoning up the defense has been a season-long issue for the Hawkeyes. Opponents are averaging 85.9 points since Big Ten play resumed Jan. 2.  Iowa is 2-6 during the eight-game stretch.
 
"We are working every day to fix our problems and what we're struggling with," said junior Ahmad Wagner. "We're not happy losing games, but everyone on this team knows our potential and knows we're capable of fixing our problems.  Once we fix them and put those pieces together, we'll be OK."
 
The Hawkeyes have played well defensively in spurts. Iowa clawed to within two points from a 16-point deficit by forcing turnovers and scoring in transition in its most recent road loss — a 98-84 setback at Nebraska — but the Huskers followed with an 11-0 run. Those runs have been a theme in Iowa's losses this season.
 
"Those (the runs) are back-breakers," said junior Nicholas Baer. "You give up 11-0 runs throughout a game, that isn't sustainable. It's about us being able to recognize when they are on a run and being able to get a good shot or run down and get fouled to slow down the momentum a little bit.
 
"We need to be able to recognize when they are getting hot and when we're not and being able to affect that change."
 
"We need to focus on putting full games together," said Wagner. "We've been letting teams go on big runs, that's our struggle. We have to limit that and if we can do that, we'll be OK."
 
Along with Mason, Minnesota has three other starters averaging in double figures.  Forward Jordan Murphy averages 17.6 points and 11.7 rebounds, but the Gophers have struggled of late.
 
Minnesota opened the season with seven straight wins and was 13-4 in its first 17 games.  The Gophers are 1-5 since with their lone win coming in overtime at Penn State on Jan. 15.
 
Tuesday's game will be televised on BTN with Dave Revsine and Stephen Bardo on the call.  Tickets are available at 800-IA-HAWKS or on hawkeyesports.com.