Hawkeye Fan Shop — A Black & Gold Store | 24 Hawkeyes to Watch 2016-17 | Fight For Iowa | Hawk Talk Monthly — February 2018
DALLAS, Texas – The University of Iowa women's tennis team closed a stretch of road matches with a 5-2 win over SMU on Sunday in Dallas, Texas. 
 
Sophomore Elise van Heuvelen and senior Montana Crawford won a quick doubles match at the No. 2 position to get the ball rolling for the Hawkeyes. The duo defeated Ana Perez-Lopez and Sarai Monarrez Yesaki, 6-0.
 
Senior Anastasia Reimchen and freshman Danielle Bauers clinched the doubles point at the No. 3 position by defeating Tiffany Hollebeck and Anzhelika Shapovalova, 6-4. Senior Zoe Douglas and freshman Yufei Long's match was then left unfinished.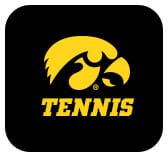 Iowa got its second point when van Heuvelen, at the No. 1 singles position, retired Liza Buss in the first set, 4-1. 
 
Bauers dropped her match to Ana Perez-Lopez, 6-0, 6-1, in the No. 6 singles position to make the match 2-1, Hawkeyes.
 
Long added a third point to the scoreboard, in the No. 3 position, by defeating Sarai Monarrez Yesaki, 6-2, 6-1. Long further extends her singles record to 6-0. 
 
Crawford lost her match to Karina Traxler in the No. 5 position, 6-2, 6-1. 
 
Reimchen secured the win for the Hawkeyes with a win in the third set, 6-3, 2-6, 6-2. Long went on to finish her match and defeated Anzhelika Shapovalova, 7-5, 6-4.
 
QUOTING HEAD COACH SASHA SCHMID
"I am proud of this group. We had a tough 24 hour turn around after a battle yesterday where we were just short. The team came out hungry today to fight and get better. I love their grit and resiliency. This was an important day for us, with lots to build on. We have learned and grown a lot already. I am excited to keep going with this group."
 
UP NEXT 
The Hawkeyes get their first taste of the Big Ten on Saturday, February 17 in Champaign, Illinois at 12 p.m. (CT). 
 
Iowa 5, SMU 2
Dallas, TX | 11 a.m. (CT) | SMU Tennis Complex
 
Singles
Van Heuvelen vs. Buss, 4-1 retired
Douglas def. Shapovalova, 7-5, 6-4
Long def. Monarrez Yesaki, 6-2, 6-1
Reimchen def. Petchey, 6-2, 3-6, 6-3
Traxler def. Crawford, 6-2, 6-1
Perez def. Bauers, 6-0, 6-1
 
Doubles
Douglas/Long vs. Buss/Traxler, 4-5 unfinished
Van Heuvelen/ Crawford def. Perez/Yesaki, 6-0
Reimchen/Bauers def. Hollebeck/Shapovalova, 6-4
MATCH NOTES
Iowa: 4-2
SMU: 3-2
The all-time series is led by the Hawkeyes, 3-0.