Hawkeye Fan Shop — A Black & Gold Store | 24 Hawkeyes to Watch 2016-17 | Fight For Iowa | Hawk Talk Monthly — February 2018
DENTON, Texas — The University of Iowa women's tennis team dropped a 4-3 nail biter to North Texas on Saturday in Denton, Texas. 
 
The Hawkeyes started off strong by capturing the doubles point with a big-time win at the No. 1 singles position from senior Zoe Douglas and freshman Yufei Long. The duo defeated No. 36 Maria Kononova and Tamuna Kutubidze, 7-5.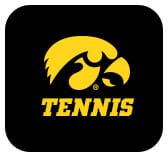 Junior Adorabol Huckleby and Senior Anastasia Reimchen dropped their match to Alexandra Heczey and Haruka Sasaki, 6-1. Soon after, sophomore Elise van Heuvelen and senior Montana Crawford, defeated Sille Tranberg and Nidhi Surapeneni, 6-1.
 
North Texas gained the lead with consecutive wins in singles.
Freshman Danielle Burich lost her singles match at the No. 6 position to Sasaki, 6-0, 6-2. 
 
Van Heuvelen went up against No. 42 nationally ranked Kononova in the No. 1 singles position, but dropped the match, 6-4, 6-2. 
 
In the No. 4 position, Reimchen got Iowa its first singles win in a come-back, tiebreaker fashion by defeating Tranberg, 5-7, 6-3, 6-3. 
 
With the match tied at two, Crawford dropped her match at the No. 5 singles position to Surapaneni, 6-7 (3-7), 6-1, 6-1.
 
Long tied the team score at 3-3, extending her record to 5-0 by defeating Liang after forcing a third-set tie breaker to win, 4-6, 7-6 (7-2), 6-1. 
 
Long's win forced a winner-take-all match at No. 2 singles, where Douglas suffered the loss despite forcing a third set to Kutibidze, 2-6, 6-3, 7-6 (10-8).
 
QUOTE FROM HEAD COACH SASHA SCHMID
"It is so good for us to see this kind of competition early in the season, we will be better for all these battles in the long run. But, it's tough to be heart broken by losses. We have to just keep getting better, never accept anything but our best in every way, and get back to work tomorrow with positivity and enthusiasm."
 
UP NEXT
The Hawkeyes are back in action Sunday in Dallas, TX against SMU at 11 a.m. (CT).
 
Iowa 3, North Texas 4
Feb. 3, 2018 | 12 p.m. (CT) | Denton, TX |Waranch Tennis Complex
 
Singles
1. #42 Maria Kononova def. Elise van Heuvelen, 6-4, 6-2
2. Tamuna Kutibidze def. Zoe Douglas, 2-6, 6-3, 7-6 (10-8)
3. Yufei Long def. Minying Liang, 4-6, 7-6 (7-2), 6-1
4. Anastasia Reimchen def. Sille Tranberg, 5-7, 6-3, 6-3
5. Nidhi Surapeneni def. Montana Crawford, 6-7 (3-7), 6-1, 6-4
6. Haruksa Sasaki def. Danielle Burich, 6-0, 6-2
 
Doubles 
1. Douglas/Long def. #36 Kononova/Kutibidze, 7-5
2. Van Heuvelen/Crawford def. Tranberg/Surapeneni, 6-1
3. Sasaki/Heczey def. Reimchen/Huckleby, 6-1
 
MATCH NOTES
Iowa: 3-2
North Texas: 3-1
Order of finish: Doubles (3,2,1); Singles (6,1,4,5,3,2)
North Texas now leads the all-time series, 1-0.