Hawk Talk Monthly — February 2018 | Fight For Iowa | Hawkeye Fan Shop — A Black & Gold Store | McCaffery Transcript (PDF)
By JAMES ALLAN
hawkeyesports.com
IOWA CITY, Iowa — The University of Iowa men's basketball team will have its hand full with fourth-ranked Michigan State coming to Carver-Hawkeye Arena on Tuesday night.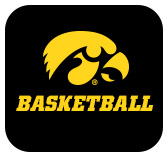 The Hawkeyes and Spartans will tango on Mediacom Court beginning at 8 p.m. (CT).  Michigan State is 22-3 overall and 10-2 in Big Ten play, sitting third in league action.
 
"That's one of the best teams in the country," Iowa head coach Fran McCaffery said during a news conference inside Carver-Hawkeye Arena. "They have multiple pros, they defend, share the ball, and run.  They're big and physical and they're deep, so we have to get them ready.
 
"We have to play better than we did the other night and we have to execute better offensively than we did the other night."
 
The Hawkeyes are coming off a 24-point loss at Penn State on Feb. 3.  To Iowa's benefit, the game is at home.  The Hawkeyes have won their last two home games, defeating Wisconsin and Minnesota.
 
"We've played well the last two home games," said McCaffery. "We've played them fairly well here over the years at home, but this Michigan State team has been a good road team, which you would expect with the guys they have."
 
All five Spartan starters average in double figures with forward Miles Bridges leading the team at 17.4 points and 7.4 rebound per game.   His front court mates — Nick Ward and Jaren Jackson, Jr., — average 13.2 and 11.4 points, respectively.
 
"Their front line is difficult," said McCaffery. "When you think about Bridges and Jackson, those two guys in particular, get a bulk of the talk, and Ward is really good. He's a handful. For most teams, he'd be the complete focal point of what your defense is trying to stop.
 
"Tom (Izzo) does a good job of using all three of them because their skill sets complement one another well."
 
McCaffery expects junior guard Brady Ellingson to play against Michigan State, and forward Ryan Kreiner is a possibility.  Kreiner hasn't played since Jan. 17; Ellingson hasn't since Jan. 20.
 
Sophomore Jordan Bohannon is still on the mend, recovering from illness.  The guard played 24 minutes at Penn State on Saturday.
 
"He's hanging in there," said McCaffery. "He's still not feeling too great. He felt a little better yesterday and he seemed like he was on his way back, and then today he feels worse."
 
Tuesday's game will be televised on ESPN with Dave Flemming, Dan Dakich, and Molly McGrath on the call.  Tickets are available through the Iowa Athletics Ticket Office at 800-IA-HAWKS or at hawkeyesports.com/tickets.