Hawk Talk Monthly — February 2018 | Fight For Iowa | Hawkeye Fan Shop — A Black & Gold Store
Editor's Note: The following first appeared in the University of Iowa's Hawk Talk Daily, an e-newsletter that offers a daily look at the Iowa Hawkeyes, delivered free each morning to thousands of fans of the Hawkeyes worldwide. To receive daily news from the Iowa Hawkeyes, sign up HERE.
By RICK BROWN
hawkeyesports.com
IOWA CITY, Iowa — Fran McCaffery was 26 years old, the youngest head coach of a Division I men's basketball program, when his first Lehigh team opened the 1985-86 season against Kenyon College.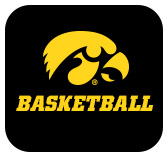 "The athletics director went out on a limb to hire me," said McCaffery, now in his eighth season at the University of Iowa. "I just wanted to perform up to the level he was expecting. I felt like we did that."
 
Lehigh won the game, 83-53. That team would go on to win 13 games that season, two shy of the school record at the time.  And McCaffery was off and running.
 
Now in his 22nd season as a head Division I coach, Iowa's 94-80 victory over Minnesota on Jan. 30 at Carver-Hawkeye Arena was the 400th of McCaffery's career.
 
"I don't think any coach has any wins, really," McCaffery said. "Yes, I coached a team that won a game. I coached Iowa, Siena, Lehigh, and North Carolina-Greensboro. Those teams won. Luckily for me, we had good players. I've coached some special guys."
 
McCaffery won 49 games in three seasons at Lehigh and he remained stuck on 49 for the next 11 seasons, when he left Lehigh to become an assistant coach at Notre Dame under Digger Phelps and John MacLeod.  He went out on his own again in 1999-2000 when he was hired by North Carolina-Greensboro. Then it was five seasons at Siena before taking the Iowa job in March of 2010.
 
All four McCaffery-coached programs have made it to the NCAA Tournament and won 20 games or more at least once.
 
McCaffery's passion for the game started around the time he was in kindergarten. Across the street from his family home in Philadelphia was the Samuel Pennypacker School. The playground included a basketball court, with two hoops and no nets.
 
"And if you shot a swish it might roll to the other end of the schoolyard and you'd have to run and get it," McCaffery recalled.
 
The McCafferys — dad Jack, mother Shirley, Fran and his brother, also named Jack — became fixtures at basketball games in Philly.  They would go to LaSalle High School games on Friday night, and college games at the famed Palestra on Saturday.
Fran honed his skills on that playground across the street. And he was good. McCaffery's eighth-grade team was undefeated. That's when a guy named Sam Rines entered his life.
 
"He kind of built my career," McCaffery said. "He said, 'You've got to play against the real good players.'"
 
Rines took McCaffery to West Philadelphia to try out for an all-star team, a precursor to AAU teams of today. There were 250 kids trying out. McCaffery became the first white player to ever make the team.
 
By the time he made it to LaSalle High School, sportswriter Julius Thompson had already  nicknamed him "White Magic."
 
One of McCaffery's summer teammates was Lewis Lloyd, who went by "Black Magic." Both made first-team all-city in 1977. And both ended up in Iowa. Lloyd was a star at Drake, where he played from 1979 to 1981 and was a two-time All-Missouri Valley Conference most valuable player.
 
McCaffery had a standout career at LaSalle, and signed with Wake Forest before transferring to Penn.
 
It's amazing when you consider how many times he crossed paths with Iowa basketball before moving to Iowa City in 2010. There was the time in 1980, when he was in college and tagged along with brother, Jack, a Philadelphia sports columnist, to the Spectrum tin Philadelphia to watch the semifinals and finals of the NCAA East Regional. Fran covertly found a courtside seat next to Jack, who was covering the games. Fran saw the Hawkeyes beat Syracuse, then handle Georgetown two days later to reach the Final Four.
 
"I was literally at courtside, watching Vince Brookins make every shot, and Bobby Hansen, and Ronnie Lester," McCaffery said. "I remember telling myself, 'Ronnie might be the best guard I've ever seen. The dude can really go.' He had such a feel and pace, and he just controlled the game. If he needed to score, he scored. If he needed to pass, he passed. If he needed a steal, he got a steal. He was that kind of guy."
 
McCaffery twice coached games against Iowa at Carver-Hawkeye Arena — with Lehigh in the 1985 Hawkeye Invitational and with North Carolina-Greensboro in the 2004 Hawkeye Challenge.
 
And last week, in that same arena, McCaffery reached the 400-win milestone.
 
"I have loved going to work every day," McCaffery said.