Hawk Talk Monthly — February 2018 | Fight For Iowa | Hawkeye Fan Shop — A Black & Gold Store
By JAMES ALLAN
hawkeyesports.com
IOWA CITY, Iowa — Nicholas Baer was the Big Ten Conference's top reserve a season ago.  Iowa head coach Fran McCaffery is trying to help Baer get back to that form.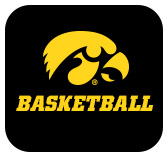 Baer was playing the best basketball of his career leading into his junior season before suffering a broken pinkie finger.  It forced him to miss Iowa's first six game; when he returned Nov. 28, the Hawkeyes were 3-3.
 
"He was playing the best basketball of his career this summer and through the foreign trip, then he broke his finger, and we started a little bit sideways as a result," McCaffery said during a Friday news conference.  "I think he put a lot of pressure on himself when he came back to do more than he should be doing."
 
After being Mr. Everything for the Hawkeyes last season, Baer has struggled in 2017-18.  The forward has started 17 of 22 games where he is averaging 5.6 points and 5.0 rebounds, down from his 7.5 points and 5.8 rebounds as a sophomore.
 
Baer started 16 straight games before McCaffery moved Baer into a reserve role Feb. 10 at Ohio State.
 
"(I told him to) do what you do, do what you do well and impact our team the way you're capable," said McCaffery. "He was the best in the league at it last year, just try to be the best in the league at it this year.
 
"I think it will be better for him and better for us to bring him off the bench."
 
Baer says the change allows him to assess the game early.  When his number is called, it allows him to enter and make an impact.
 
"(Coming off the bench) gives you a sense for how the game is going," said Baer. "Understanding who is hot early, is Tyler (Cook) getting a lot of post touches and is he having success there, is Jordan (Bohannon) getting hounded and we need to get him open and going. It's reading who is doing well and defensively, who is hurting us on the other end."
 
Baer and the Hawkeyes return to action Saturday, hosting Indiana at 1:05 p.m. (CT) on Mediacom Court.  The Hoosiers won the first meeting, 77-64, on Dec. 4 in Bloomington.
 
"They're playing well together now," said sophomore Tyler Cook. "Juwan Morgan is playing as well as anybody in the league.  Their guards are making shots, driving, and are making teams play them accordingly.  It will be a fun game."
 
Morgan is Indiana's top player, averaging 16.8 points and 7.4 rebounds, while shooting 59 percent from the field.  Robert Johnson is the only other Hoosier in double figures, averaging 13.4 points.
 
Indiana is 15-12 overall and 8-7 in Big Ten play, but the Hoosiers are just 2-7 in true road games.  One of those victories came Feb. 5 at Rutgers (65-43) and it started a three-game winning streak.
 
Saturday is the annual Black & Gold Spirit Game in Carver-Hawkeye Arena.  Tickets are available at hawkeyesports.com/tickets.  The game will be televised on ESPN with Jason Benetti and Dan Dakich on the call.