Hawkeye Fan Shop — A Black & Gold Store | 24 Hawkeyes to Watch – 2017-18 | Hawk Talk Monthly — February 2018 – http://catalog.e-digitaleditions.com/i/935355-february-2018 | Photo Gallery | Final Results (PDF)
IOWA CITY, Iowa — The University of Iowa women's gymnastics team defeated Ball State, 195.775-194.825, at its annual pink meet at Carver-Hawkeye Arena on Friday evening.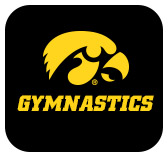 MEET HIGHLIGHTS
Iowa took the lead after the first rotation and never trailed, securing the victory. Four GymHawks earned five event titles and the team registered a season high on vault to highlight the meet. Five GymHawks also earned seven season bests.
 
HEAR FROM COACH LIBBY
"I am very pleased with the competition and how our team performed. We trained hard all week to fix some of the details that we had been making mistakes on. I thought we looked far more impressive as an overall team tonight."
 
"I'm super proud of Nicole Chow. She just entered the all-around for the first time this year. It's nice for her to get her first win at home. She continues to grow, not just in gymnastics, but as a leader on the team, and I love that about her."
 
ALL-AROUND
Junior Nicole Chow won the all-around title with a career-high 39.250. This marks the first all-around title of her career. Sophomore Charlotte Sullivan finished third with a 38.450.
 
VAULT
Iowa began the night on vault with a season-best 49.000, while Ball State earned a 48.825 on bars. Junior Maria Ortiz won the event with a season-high 9.850. Chow followed in second with a career best 9.825, while seniors Melissa Zurawski and Nikki Youd tied for fourth with scores of 9.800. This marks a season high for Zurawski.
 
BARS
The Hawkeyes moved to bars for the second rotation and recorded a 48.925, extending their lead over Ball State (97.925-97.375). Zurawski took home the title with a season-best 9.875. Freshman Emma Hartzler and Ortiz tied for third with scores of 9.775.
 
BEAM
The GymHawks earned a 48.800 on beam, while Ball State registered a 48.800 on floor. Chow placed first in the event with a 9.850.  Sullivan and sophomore Breanna Fitzke tied for second with scores of 9.775.
 
FLOOR
Iowa finished the competition on floor with a 49.050 to solidify the win over Ball State. Senior Lanie Snyder won the event with a 9.900, tying her season best. Chow earned second with a 9.825.
 
UP NEXT
The Hawkeyes travel to Cedar City, Utah, to face Southern Utah on Friday, Feb. 23. The meet is slated for 7 p.m. (CT). Links to live stats will be available on hawkeyesports.com.