Hawkeye Fan Shop — A Black & Gold Store | 24 Hawkeyes to Watch 2016-17 | Fight For Iowa | Hawk Talk Monthly — February 2018 – http://catalog.e-digitaleditions.com/i/935355-february-2018 | Notre Dame and Northwestern Notes
THIS WEEK FOR THE HAWKEYES
The University of Iowa women's tennis team plays at Notre Dame on Saturday at the Courtney Tennis Center in Notre Dame, Indiana, and at Northwestern on Sunday at the Combe Tennis Center in Evanston, Illinois. Start times are at 11 a.m. (CT) and 12 p.m, respectively.
@SASHASCHMID ON UPCOMING ROAD MATCHES
"We have a great upcoming weekend of tennis with two tough road matches versus Notre Dame and Northwestern. It will be two very good back-to-back tests for our team."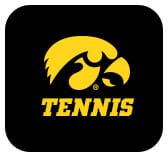 HAWKEYES ON THE ROAD
The Hawkeyes are 2-2 on the road. They grabbed two wins at Montana and SMU and suffered losses at Washington State and Illinois.
TAKING ON THE LEPRECHAUNS
Saturday's match is the 21st meeting between Iowa and Notre Dame (6-2). Notre Dame leads the all-time series, 19-1. The Hawkeyes last beat the Leprechauns in 1999, 5-4.
TAKING ON THE WILDCATS
Sunday's match is the 47th meeting between Iowa and Northwestern (6-3). Northwestern leads the all-time series, 44-2. Iowa's last win vs. Northwestern was in 1992, 5-4. The Wildcats have three ranked doubles teams at 2nd, 13th, and 28th. In singles Maddie Lipp is ranked No. 65, Erin Larner is ranked No. 85, and Lee Or is ranked No. 88.
NON-CONFERENCE, CONFERENCE MATCHUP
The Hawkeyes were scheduled 11 Big Ten opponents this season. There are 13 other teams in the conference, and head coach Sasha Schmid wanted her team to see them all. Iowa originally did not have Illinois or Northwestern on it's schedule. Schmid reached out and was able to schedule a meeting with both, although the two matchups will not be counted towards their conference record.
BIG TEN MATCHUPS APPROACHING
Iowa is just two weeks shy of Big Ten play. The Hawkeyes' first three matches are within four days of each other. Iowa plays Penn State on Wednesday, March 14, and hosts Michigan and Michigan State on March 16 and 18.
FRESHMAN YUFEI LONG STAYS UNDEFEATED
Long has extended her win streak in singles at 9-0 overall. Long has two straight-set victories over ranked opponents. She defeated No. 109 Tiffany Mylonas from Washington State, 6-4, 6-1, and No. 92 Mia Rabinowitz from Illinois, 6-3, 6-3.
BECOME A FAN
Fans can follow the Iowa women's tennis team at facebook.com and via twitter
@Iowa_Tennis. Live results from this weekend are available on the Iowa women's tennis schedule page at hawkeyesports.com.
FOLLOW THE HAWKEYES
Links to live results and a live video stream will be available on the women's tennis schedule page at hawkeyesports.com.