Hawkeye Fan Shop — A Black & Gold Store | 24 Hawkeyes to Watch 2017-18 | Hawk Talk Monthly — February 2018 | VIDEO — Iowa is ready for Indy
Editor's Note: The following first appeared in the University of Iowa's Hawk Talk Daily, an e-newsletter that offers a daily look at the Iowa Hawkeyes, delivered free each morning to thousands of fans of the Hawkeyes worldwide. To receive daily news from the Iowa Hawkeyes, sign up HERE.
By DARREN MILLER
hawkeyesports.com
IOWA CITY, Iowa — A problem with dominating February is that, with 28 days, it is the shortest month of the year to enjoy the fruits of your labor.
 
For the University of Iowa women's basketball team, Fabulous February turns to Marvelous March.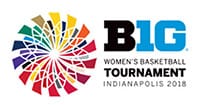 The Hawkeyes swept all seven games in February — four at home and three on the road — to vault from 4-5 in the Big Ten Conference to 11-5 in a span of 24 days. Iowa (23-6 overall) returns to action March 1 at the Big Ten Tournament in Indianapolis against Northwestern (12-19).
 
"We're going in winning seven straight and having a really good February," Iowa head coach Lisa Bluder said. "We take a lot of confidence going into this tournament, but we also understand that everybody is 0-0 and it's wide open."
 
As the calendar flips to March, let's savor what the hottest team in the third-toughest conference in the nation accomplished.
 
First, it knocked off Michigan State, Minnesota, Penn State, Northwestern, Wisconsin, Rutgers, and Indiana in succession. The wins at Michigan State and Rutgers were in overtime. The Hawkeyes won those seven games by an average of 10.6 points per game.
 
It helps when the best player in the league is on your side and averages 29.6 points and 14.1 rebounds in February. Iowa junior center Megan Gustafson, who on Monday was named Big Ten Player of the Year by the media, shot 68 percent from the field and 77 percent from the line.
 
"We have done great things and had awesome finishes, so that gives us momentum coming into the Big Ten Tournament," Gustafson said. "This year I think anyone can beat anyone on a given day, so it's important to have momentum."
 
Injuries slowed, but didn't derail, the Hawkeyes in December. On Dec. 17, during a 71-47 win at Northern Iowa, starting point guard Tania Davis was lost for the season with a torn ACL. Iowa still managed a five-game winning streak heading into Big Ten play, but the practice before taking on Wisconsin on Dec. 28, sophomore guard Makenzie Meyer broke a bone in her left (non-shooting) hand.
 
The Hawkeyes won at Wisconsin and at home against Michigan, then stumbled to 2-5 in January.
 
"Our team got used to playing without Tania and we got Makenzie back (on Jan. 21 at Minnesota)," Bluder said. "That was a big thing. It hurt us when Makenzie was missing for six games for the first month of the Big Ten season. Then she came back for the next three games wearing an awkward brace on that hand. When we got her back, it was huge."
 
In February, Meyer averaged 10 points a game with a team-high 14 3-point field goals. She made 16 of 17 free throws.
 
"We're confident and we know that every win counts toward (NCAA Tournament) seeding," Meyer. "We're going to be focused going into the Big Ten Tournament and hopefully we will get good results. We truly feel we can beat anybody in the Big Ten."   
 
Senior Chase Coley has been playing the best ball of her career, beginning with a jumper she made in overtime to lift the Hawkeyes to a 71-68 win at Michigan State. Over the last seven games, Coley is averaging 12.7 points and 6.4 rebounds while shooting 53 percent from the field and 81 percent from the line. Sophomore Kathleen Doyle is averaging 9.9 points, 7.0 assists, and 2.6 steals in February.
 
It has been a comprehensive Hawkeye effort: freshman Alexis Sevillian, who is recovering from the flu, averaged 7.2 points and made 10 3-point field goals in six games. Sophomore Amanda Ollinger shot 57 percent from the field and pulled down 5.6 rebounds a game. Junior Hannah Stewart averaged 7.0 points and 3.4 rebounds. Senior Carly Mohns played six games, freshman Zion Sanders played five games, and freshman Paula Valino Ramos logged five minutes in the 27-point win over Wisconsin.
 
Iowa finished in a three-way tie for third in the Big Ten with Minnesota and Nebraska. Ohio State was the regular-season champion at 13-3, followed by Maryland at 12-4. Seven Big Ten teams are in the top 53 in RPI: Ohio State (sixth), Iowa (17th), Maryland (20th), Michigan (38th), Rutgers (41st), Minnesota (46th), and Indiana (53rd).
 
"The job we did (scheduling) in the nonconference, to have so many teams in the top 50 of RPI, and to be ranked as the third-best conference in America shows the balance we have," Bluder said. "This is the most wide-open I have seen in a long time. It is exciting for everybody."
 
First up for the Hawkeyes is Northwestern, who saw a 17-point fourth-quarter lead dwindle to two with 31 seconds remaining Wednesday against Wisconsin. The Wildcats held on, 68-63. Iowa defeated Northwestern, 70-61, on Feb. 11 in Evanston, Illinois. The Hawkeyes shot 57 percent from the field and Gustafson (25), Doyle (15), and Meyer (12) scored in double figures.
 
The Hawkeyes and Wildcats tip off 25 minutes (approximately 1:30 p.m. CT) after the Purdue-Rutgers game that begins at 11 a.m. on Thursday at Bankers Life Fieldhouse in Indianapolis.