Hawkeye Fan Shop — A Black & Gold Store | 24 Hawkeyes to Watch 2017-18 – /sports/2017/7/19/24-hawkeyes-to-watch-2016-17.aspx | Hawk Talk Monthly — February 2018 – http://catalog.e-digitaleditions.com/i/935355-february-2018
Editor's Note: The following first appeared in the University of Iowa's Hawk Talk Daily, an e-newsletter that offers a daily look at the Iowa Hawkeyes, delivered free each morning to thousands of fans of the Hawkeyes worldwide. To receive daily news from the Iowa Hawkeyes, sign up HERE.
By CARI GOLD
hawkeyesports.com
IOWA CITY, Iowa — On Friday, University of Iowa women's gymnastics seniors — Jori Robertson, Lanie Snyder, Nikki Youd, and Melissa Zurawski — will experience the magic of meet day in Carver-Hawkeye Arena one final time.
 
Throughout the years, there have been many memorable moments, but some stand out more than others.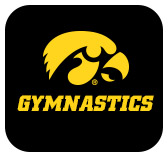 "I love walking out of the tunnel into the arena and seeing our home crowd," said Youd. "That first moment when you see everyone, and you get to warm up in front of your fans, it's a great feeling. That and the reaction and cheering with your team after a routine will be the things I remember forever."
 
For these four seniors, the impact of wearing the black and gold goes far beyond meet day.
 
"Wearing the black and gold means not only competing, but also practicing with integrity and class," said Zurawski. "It means being respectful to everyone around you and putting in hard work throughout the process. If you do all that, it will show on the competition floor."
 
While being a GymHawk has been the experience of a lifetime, it has also taught the seniors lessons and skills that they will carry beyond gymnastics and graduation.
 
"Being a GymHawk has affected my life in so many ways," said Snyder. "It has taught me so many valuable lessons — time management, determination, integrity, perseverance, and so many other things that are as useful outside the gym as they are in the gym.
 
"When it comes down to it, being on this team with these girls and coaches beside me has taught me how to be a good person. After gymnastics, I will continue to live my life and take everything I've learned from working hard as a GymHawk with me."
 
Being a GymHawk is not just being a member of a team. It's being a member of a family, and the lessons the seniors have learned will last a lifetime.
 
"I'm going to miss this incredible team and family so much," said Robertson. "We constantly push each other in and outside of the gym. We keep each other accountable. I've learned so many lessons from my teammates and coaches over the years that I will carry throughout my entire life."
 
With one meet remaining in Carver-Hawkeye Arena, the seniors are looking forward to spending it with their teammates, but they also know that this is not the end.
 
"I'm going to soak in every moment, every routine, and just enjoy that feeling of being In Carver one last time," said Youd. "It'll be hard to know that my time in Carver is over, but we have a lot of the season left. We aren't done yet."
 
Iowa faces Southeast Missouri State at at 7 p.m. (CT) inside Carver-Hawkeye Arena. Doors open at 6 p.m. and the seniors will be honored for Senior Night following the meet.