Hawkeye Fan Shop — A Black & Gold Store | Fight For Iowa | Hawk Talk Monthly — February
Editor's Note: The following first appeared in the University of Iowa's Hawk Talk Daily, an e-newsletter that offers a daily look at the Iowa Hawkeyes, delivered free each morning to thousands of fans of the Hawkeyes worldwide. To receive daily news from the Iowa Hawkeyes, sign up HERE.
By SHANE STURTZ
hawkeyesports.com
NEW YORK — The University of Iowa men's basketball 2017-18 season ended with a 77-71 overtime loss to 15th-ranked Michigan on Friday at Madison Square Garden. The tears in the locker room showed the disappointment of a season that did not meet expectations for these young Hawkeyes.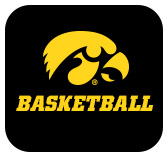 Iowa finished in the lower half of the Big Ten for the first time in seven seasons under head coach Fran McCaffery, but the Hawkeyes finished the season playing some of their best basketball and the players look to carry that momentum into the offseason.
 
"When you look at our season, I think something we can be proud of is that we were playing our best basketball to end the year," Nicholas Baer said. "A win against Northwestern, win (against Illinois), and we took an NCAA Tournament team into overtime. I'm proud of our guys."
 
The newfound energy and togetherness started in Iowa's home finale against Northwestern where they led by as many as 22 points. In Iowa's first round win against Illinois they scored 61 points in the second half and set a school-record with 96 points in the Big Ten Tournament. It was followed by an overtime loss to Michigan that came down to the wire.
 
Iowa lead Michigan, 40-35, at halftime, but fell behind following an 11-0 Wolverine run to start the second half. Sophomore Jordan Bohannon sent the game to overtime on a deep 3-pointer and the Hawkeyes kept fighting, but the ball didn't bounce their way in the extra session.
 
"Despite the fact that the season did not go the way we hoped, these guys never quit on the staff," said McCaffery. "The staff never quit on them. Most importantly, they didn't quit on each other. They kept grinding. They kept trying to get better – and you could see it, especially in these last three games."
 
Up and down the lineup, the close-knit team viewed the end of the season as a steppingstone toward next season.
 
"We're going to get after it in the offseason and get it figured out," Bohannon said. "We know how basketball can go sometimes. This was a frustrating season, but the last three games I think we proved to each other what we're capable of doing."
 
Freshman Luka Garza will use this season to motivate himself and his teammates throughout the offseason to get ready for 2018-19.
 
"We weren't playing to the level we could," Garza said. "Remembering the feeling of losing and how much it hurts. We're going to take everything from this season and let it fuel us."
 
McCaffery said that offseason workouts will be vital for the squad.
 
"We're going to kill it in the weight room and get after it in skill development," said McCaffery. "We will play a lot of basketball and we're going to get better. When we come back, we're going to look different physically and be different. There's a lot of character in the locker room. They want to max out this opportunity."