Hawkeye Fan Shop — A Black & Gold Store | Fight For Iowa | Hawk Talk Monthly — February
Editor's Note: The following first appeared in the University of Iowa's Hawk Talk Daily, an e-newsletter that offers a daily look at the Iowa Hawkeyes, delivered free each morning to thousands of fans of the Hawkeyes worldwide. To receive daily news from the Iowa Hawkeyes, sign up HERE.
By RICK BROWN
hawkeyesports.com
IOWA CITY, Iowa — Luka Garza just completed one of the best freshman seasons in University of Iowa men's basketball history.
 
That didn't come as a surprise to two people: Garza and his coach, Fran McCaffery.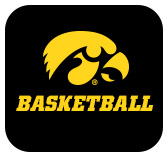 "I'm confident in my abilities," said Garza, a 6-foot 11-inch center from Washington, D.C. "I've worked so hard in my career. I know what I'm capable of."
 
Garza had passed McCaffery's eyeball test long before the 2017-18 season tipped off. The coach saw Garza play a lot on the AAU circuit, and knew what he was getting.
 
"I really got to watch him," McCaffery said. "For me, it was a no-brainer. I love the kid, and his tenacity."
 
It might have been a disappointing season for the Hawkeyes, but the silver lining moving forward is what Garza accomplished and where he can take his game in the future.
 
Garza was the Hawkeyes' third-leading scorer at 12.1 points a game, and was the No. 2 rebounder at 6.4 an outing. But his productivity is even more impressive when it is compared to the best freshman seasons in school history. Garza ranks in the top 10 in nine different categories for freshmen at Iowa.  
 
His 211 rebounds were the most ever for a freshman. Melsahn Basabe had 210 in 2010-11. Garza's 6.4 average on the glass ranks fifth all-time.
 
Garza's 400 points rank fourth, trailing only Ricky Davis (464), Tyler Smith (461), and Jess Settles (414).  His 12.1 average ranked ninth. Garza's four games of 20 points or more comes in seventh. His 20 games scoring in double figures is also seventh-best.
 
Garza ended up fifth in field-goal percentage (.557), sixth in blocked shots (32), and seventh in three-point field-goal percentage (.348).
 
"I felt like early in the year I was leaving some opportunities on the table," Garza said. "I'd leave a game thinking I had left so much out there. Not in terms of effort, but in terms of production. I just made sure I continued to keep working, trust the process, have confidence in myself, play my heart out, and see what happened."
 
Garza hit the wall at one point of the season, a malady not unique to freshmen who are used to a shorter and less physical season. But Garza bounced off that wall and got even better.
 
"I had a stretch of games where I knew I was struggling, and I wasn't playing up to my capabilities," Garza said. "I just got back in the gym, talked to my coaches, and got my confidence back. I know when I play with that energy and enthusiasm it helps me out and keeps me going."
 
Garza was at his best at the end of the season. Over the final six games he shot 60 percent from the field, including six 3-pointers in 14 attempts. He made 16-of-20 free throws and he averaged 28.3 minutes, 17.6 points, and 6.3 rebounds.
 
Garza might be the most versatile freshman to put on an Iowa uniform, when you consider that he showed the ability to be productive in the paint and behind the 3-point line. He has the potential to become a matchup nightmare for defenses moving forward.
"It has always been my goal to take what the defense gives me," Garza said. "If I've got a smaller guy on me, I go inside. If he's huge and he can't really move his feet, I try to get him outside because he might not want to come out there. I'm just going to work on all areas of my game, so I can be that kind of threat."
 
Garza is pleased with what he accomplished in his first season of college basketball, but he wants so much more.
 
"This just makes me that much hungrier," Garza said. "I'm going to grind in the offseason. I'm going to work as hard as I can."