Hawkeye Fan Shop — A Black & Gold Store | 24 Hawkeyes to Watch 2016-17 | Fight For Iowa | Hawk Talk Monthly — February 2018 – http://catalog.e-digitaleditions.com/i/935355-february-2018
Editor's Note: The following first appeared in the University of Iowa's Hawk Talk Daily, an e-newsletter that offers a daily look at the Iowa Hawkeyes, delivered free each morning to thousands of fans of the Hawkeyes worldwide. To receive daily news from the Iowa Hawkeyes, sign up HERE.
By ANNE RILEY
hawkeyesports.com
IOWA CITY, Iowa — The Hawkeyes have a long history of success against Iowa State on the women's tennis court. But things change quickly in college athletics, so the Hawkeyes' focus is not on their perfect 36-0 all-time record against the Cyclones.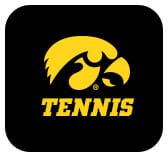 Instead, Iowa is locked in on the moment because you never know when the next one will be taken from you.
 
After facing a junior season full injury and adversity, senior Anastasia Reimchen knows that too well. Reimchen was forced to play it safe in 2017 as she recovered from not one, but two concussions over the course of the fall and spring seasons.
 
But she's back in 2018, and University of Iowa head coach Sasha Schmid sees a rejuvenated leader back in the middle of the Hawkeye lineup.
 
"She really struggled with injuries and confidence her junior year," said Schmid. "I feel that given a healthy senior year and the natural talents she has in her game, she is someone you could point to for being a difference maker to get us over the hump. I have been pleased with her so far. She has put herself in a position to win every match."
 
Last year, Reimchen went 12-7 in singles and 2-9 in doubles. This season her mindset is different and so are the results. In 2018, she has posted a 6-4 singles record and a 9-2 record in doubles.
 
"I have seen her doubles grow and be a contributing factor in the lineup," said Schmid. "She is kind of an unsung hero. She is working hard, being a difference maker when we go out and compete at the four spot, and that's a position that can tip a match."
 
"I just go out, focus on myself, focus on exactly what I need to do in the match, and not get distracted or doubt myself," said Reimchen. "If I do, I usually have a successful match. I just tell myself you're here to do one job, get it done."
 
As a sophomore, Reimchen played 20 singles matches and 18 doubles matches at the No. 1 position, and until this season she had not played a match lower than the No. 3 position. Rather than sulking about what could be viewed as a slight, Reimchen has embraced the role of playing the No. 4 position, and Iowa has benefited.
 
"She has never given me any indication that she isn't grateful for every opportunity to go out there and compete as a Hawkeye no matter where she is in the lineup," said Schmid. "That is a sign of a strong team.
 
"You can't underestimate how important she is to us. I think going forward, we are going to be able to point to her as someone who has been important in helping us getting to four points."
 
A strong senior season would benefit the entire team, but in tennis sometimes you have to be selfish. In Reimchen's case, everyone wins. 
 
"I have come back with more motivation to do better because it is my final season," said Reimchen. "I want to finish the best possible way that I can."
 
The next challenge for Reimchen and the Hawkeyes is a neutral site match against Iowa State. The annual Iowa Corn Cy-Hawk Series will be played at LifeTime Fitness in Des Moines, Iowa, on Wednesday at 4 p.m. (CT).
 
Iowa leads this year's Iowa Corn Cy-Hawk Series, 11-8. A Hawkeye win would extend that lead to 13-8 with two events left on the schedule. Iowa State hosts women's gymnastics on March 9, and softball on April 25.