Hawkeye Fan Shop — A Black & Gold Store | Fight For Iowa | Hawk Talk Monthly — February
Editor's Note: The following first appeared in the University of Iowa's Hawk Talk Daily, an e-newsletter that offers a daily look at the Iowa Hawkeyes, delivered free each morning to thousands of fans of the Hawkeyes worldwide. To receive daily news from the Iowa Hawkeyes, sign up HERE.
By RICK BROWN
hawkeyesports.com
DES MOINES, Iowa — As the final seconds of Joe Wieskamp's heralded Muscatine High School basketball career ticked off the clock Tuesday, University of Iowa men's basketball head coach Fran McCaffery sat in the front row of a Wells Fargo Arena suite and clapped his hands.
 
"Good job, Joe," McCaffery said.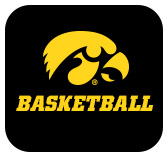 It had been a conflicted 90 minutes for McCaffery, who signed Wieskamp to a National Letter of Intent in November. McCaffery had cheered for his son, Patrick, and his Iowa City West teammates in the State Class 4A quarterfinal game. The opponent had been Wieskamp and Muscatine. West won, 62-50, despite 29 points and 11 rebounds from Wieskamp — his 46th career double-double.
 
"Obviously he's going to cheer for his son," said Wieskamp, a 6-foot 6-inch guard. "But hopefully he was cheering for me as well. Hopefully I can come in next year and have an impact right away."
 
Wieskamp finished his career with 2,376 points (26.1 per game), the most for anyone at a Class 4A school and sixth best in state history. Now it's time for Wieskamp to turn the page. After a two-week break from basketball to refresh and reenergize, he'll get back to work…as a Hawkeye.
 
"That's going to be the mindset," Wieskamp said. "Preparing my body, everything, for the next level."
 
McCaffery started tracking Wieskamp's career shortly after being named Iowa's coach in March of 2010. Wieskamp was a fifth grader. Patrick McCaffery was in fourth grade, and played up with Joe's Iowa Barnstormers AAU team.
 
Wieskamp committed to the Hawkeyes as a freshman, and has polished his game to the point where he's a consensus top-100 prospect nationally. He knows he brings a lot of expectations with him to Iowa.
 
"Committing there young, I knew that the whole state would rally around me," Wieskamp said. "I've a lot of people supporting me. There are going to be some haters out there. But I think they appreciated how I committed early and stayed true. Hopefully I can produce for them next year."
 
McCaffery has watched Wieskamp's game evolve, from a shooter to someone who can put the ball on the floor and get to the basket. The coach has no plans to temper expectations.
 
"He's ready for it," McCaffery said "I always say that's what these guys signed up for when they decided to play in the Big Ten. They want to play on a big stage. He's earned the right to be on that big stage and he's going to be really good."
 
So just what kind of player should Hawkeye fans expect to see?
 
"He makes plays," McCaffery said. "His assist-to-turnover ratio will be good. He's efficient. A lot of times you see he's scored a ton of points and you think he's taken a ton of shots. That's rarely the case. He shoots a high percentage, from both two and three. The game comes easy to him. Those guys are always in the right place."
 
McCaffery acknowledges that the step from high school to college is a big one.
 
"But he's physically ready," McCaffery said. "He's mentally ready and most importantly, his game is ready."
 
One of the most refreshing things about Wieskamp is the fact that he doesn't consider himself a finished product.
 
"I'm going to work hard in the offseason before I get there, every day, trying to get prepared for that level," Wieskamp said. "I have to add a little bit of strength to compete with those guys. They're a lot bigger in the paint, and I'm not going to be able to get those closer looks. I have to focus on my outside game, my mid-range game. I've got to focus on my ball handling, because they're going to get up into me. And they're going to be stronger, and a lot faster."
 
Wieskamp also goes to the videotape to pick up nuances of the game. He watches his favorite player, Devin Booker of the NBA's Phoenix Suns, every chance he gets.
 
"Joe fits in anywhere," McCaffery said. "He's a good rebounder and a good shooter.  He can pass it and handle it. He can play anywhere from point guard to power forward. He defends. He has always played well in the clutch."
 
McCaffery was in the crowd when Wieskamp scored all 25 of his team's first-half points and finished with a career-best 54 against Bettendorf in a 64-50 victory on Feb. 2.
 
"I've never seen anything like it," McCaffery said. "Pretty impressive."
 
Wieskamp's resume includes making the NBPA Top 100 all-tournament team, and being chosen for the Adidas-U.S. Select Team. He has faced plenty of high-level competition on the AAU circuit playing for the Iowa Barnstormers.
 
"It doesn't matter whether it's high school, AAU, or a camp situation where he's thrown on a team with a coach he doesn't know and a bunch of players he doesn't know," McCaffery said. "He always excels because he has an incredible understanding of how to play. He's a fierce competitor, and he's incredibly talented."