Hawkeye Fan Shop — A Black & Gold Store | 24 Hawkeyes to Watch – 2017-18 | Hawk Talk Monthly – March 2018 | Final Results (PDF)
AMES, Iowa – The University of Iowa women's gymnastics team earned a season-best 49.225 on uneven bars, while finishing in third-place with a score of 195.600 at the Hilton Coliseum on Friday night.
 
No. 25 Iowa State won the meet with a 196.700, while No. 19 Missouri placed second with a total score of 196.050.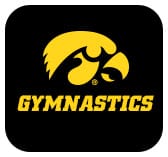 MEET HIGHLIGHTS
The Hawkeyes recorded a season-high 49.225 on bars.
Six GymHawks registered seven season bests.
ALL-AROUND
Junior Nicole Chow finished third in the all-around with career-high 39.275, while sophomore Charlotte Sullivan earned an all-around total of 38.550.
 
BARS
Iowa began the competition on bars with a season-high 49.225. Chow led the Hawkeyes in second with a career-high 9.900. Freshman Madison Kampschroeder followed closely behind her teammate in fourth with a career-best 9.875. Senior Lanie Snyder and junior Maria Ortiz posted scores of 9.825, while senior Melissa Zurawski earned a 9.800.
 
BEAM
The GymHawks moved to beam next, where they recorded a score of 48.850. Sullivan placed second with a 9.850, while Chow finished fourth with a 9.825.
 
FLOOR
The Hawkeyes posted a 49.100 on floor. Snyder tied for second with a 9.900. Sophomore Breanna Fitzke followed with a career-best 9.850, and Chow registered a 9.800.
 
VAULT
Iowa finished the evening on vault with a 48.425. Chow led the team in the event with a 9.750, while Sullivan and junior Misty-Jade Carlson recorded scores of 9.700 each.
 
UP NEXT
The GymHawks compete at the Big Five Meet on March 17 at 4:30 p.m. (CT) in Piscataway, New Jersey. Iowa will face off against No. 7 Michigan, No. 22 Minnesota, Penn State, and Rutgers in the competition.