Hawkeye Fan Shop — A Black & Gold Store | 24 Hawkeyes to Watch – 2017-18 | Hawk Talk Monthly — March 2018
Editor's Note: The following first appeared in the University of Iowa's Hawk Talk Daily, an e-newsletter that offers a daily look at the Iowa Hawkeyes, delivered free each morning to thousands of fans of the Hawkeyes worldwide. To receive daily news from the Iowa Hawkeyes, sign up HERE.
By SHANE STURTZ
hawkeyesports.com
IOWA CITY, Iowa — For former University of Iowa student-athletes Jeff and Sasha Schmid, returning to their alma mater to coach is a dream come true.
 
The dream became reality when Sasha was named head women's tennis coach in the summer of 2016 and when Jeff joined the Hawkeye men's golf program as an assistant coach.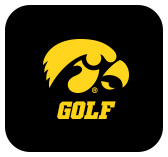 "It's awesome to be able to coach at your alma mater," Sasha said. "I don't take it lightly. It has been a dream of mine to come back and be head coach of this tennis program. It is a program that meant so much to me as a player and gave a lot to me. In many ways, life can go full circle."
 
Jeff was a four-time letterwinner from 1987-90 and six-time medalist who earned All-Big Ten honors in 1989 as a member of the golf team. Sasha was a four-time letterwinner from 1992-96 for the tennis team and earned team MVP honors in 1996.
 
The two Hawkeyes jumped at an opportunity to call Iowa City home again.
 
"I always tell people this is my favorite place on the planet," Jeff said. "I've lived a lot of different places and it was great to come home. I would say it was a dream."
 
The draw of Iowa City, which attracts many former Iowa players of any sport, had the same effect on the Schmid's.
 
Prior to returning to Iowa, Sasha coached 10 years at Stetson from 2002-11 and at Missouri from 2012-16. Jeff volunteered wherever Sasha coached. At Stetson, he helped lead the women's golf team to three straight conference titles and at Missouri in 2013, the team won six tournaments and was ranked as high as 13th nationally.
 
Jeff's passion for teaching and playing golf is unmatched.
 
"He absolutely loves golf." Sasha said. "Golf Channel is always on at the house, so it's something he is passionate about."
 
It doesn't matter if it's a seven-year-old or a Tour player, the intricacies of golf enthrall Jeff.
 
"The hardest part for me is not saying this is what I did," Jeff said. "It's more like what I did wrong. Honestly, that's what I try to tell the kids. I'm like, 'I was where you're at, this is what I did wrong.' We're all similar. We have the tendency to make the same mistakes and I can help you get along quicker."
 
Jeff, a fierce competitor who competed 18 years as professional, and Sasha, a positive, hard-worker, are always talking about coaching.
 
"I think that we each have these experiences that we've gone through," Sasha said. "He's watched me go through it for 17 years. I always need a sounding board, especially after a tough match, to be able to go home and chat about it."
 
Jeff jokingly said if they each listened to each other more, who knows how much better each could be.
 
Outside coaching, the two spend time with their daughters, Lucy and Lily, who Jeff thinks will soon gravitate more toward sports — but will rely on their mom's athleticism.