Hawkeye Fan Shop — A Black & Gold Store | 24 Hawkeyes to Watch 2016-17 | Fight For Iowa | Hawk Talk Monthly — March
IOWA CITY, Iowa — The University of Iowa women's tennis team fell, 6-1, to No. 37 Michigan inside the Hawkeye Tennis and Recreation Complex on Friday.
 
Senior Anastasia Reimchen's, 3-6, 7-5, 10-8, late match victory on court four over Alyvia Jones was the only Hawkeye winner of the day.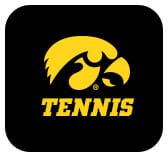 Senior Montana Crawford looked for a comeback win on court six after dropping the first set to Bella Lorenzini, but eventually lost, 6-3, 5-7, 10-3.
 
The Hawkeyes started the doubles match with losses on courts one and two. The Iowa pair of senior Zoe Douglas and freshman Yufei Long fell to Michigan's 42nd-ranked Mira Ruder-Hook and Brienne Minor, 6-1. Michigan secured the doubles point with a win over Crawford and junior Adorabol Huckleby, 6-4.
 
QUOTING HEAD COACH SASHA SCHMID
"There were definitely some things from today's match we have to work on before Sunday. We've had two tough losses to start conference play so we really want to get the ship righted as we move through the rest of the conference season. It's a situation where we need to come together, build up our spirit, and really fight for those wins. Sunday will be another tough match so we'll need to regroup and be ready to give it our best."
UP NEXT
The Hawkeyes are back in action hosting Michigan State on Sunday, March 18 at 10 a.m. (CT) at the Hawkeye Tennis and Recreation Complex. Admission is free. 
 
NO. 37 MICHIGAN 6, IOWA 1 
March 16, 2018 | 1 p.m. (CT)| Iowa City, Iowa | HTRC
 
SINGLES
1. #21 Kate Fahey (UM) def. Elise van Heuvelen (UI): 6-2, 6-0
2. #81 Chiara Lommer (UM) def. Yufei Long (UI): 6-3, 6-1
3. Brienne Minor (UM) def. Zoe Douglas (UI): 6-2, 6-1
4. Anastasia Reimchen (UI) def. Alyvia Jones (UM): 3-6, 7-5, 10-8
5. Mira Ruder-Hook (UM) def. Adorabol Huckleby (UI): 6-3, 6-4
6. Bella Lorenzini (UM) def. Montana Crawford (UI): 6-3, 5-7, 10-3
DOUBLES
1. #42 Mira Ruder-Hook/Brienne Minor (UM) def. Douglas/Long (UI): 6-1
2. #49 van Heuvelen/Reimchen (UI) v. Kate Fahey/Alyvia Jones (UM): 5-5; uf
3. Chiara Lommer/Lera Patiuk (UM) def. Crawford/Huckleby (UI): 6-4
 
Match Notes:
No. 37 Michigan 5-8, 1-1
Iowa 8-6, 0-2
Order of finish: Doubles (1,2); Singles (3,1,2,5,4,6)
The all-time series is led by Michigan, 40-12.