Hawkeye Fan Shop — A Black & Gold Store | 24 Hawkeyes to Watch 2016-17 | Fight For Iowa | Hawk Talk Monthly — March | Wichita State and Ohio State Notes
THIS WEEK FOR THE HAWKEYES
The University of Iowa women's tennis team plays at No. 27 Wichita State on Friday at 9 a.m. (CT) at the Coleman Tennis Complex. The Hawkeyes return home to host No. 23 Ohio State on Sunday at 11 a.m. at the Hawkeye Tennis and Recreation Complex. Admission is free.
@SASHASCHMID ON FACING TWO RANKED OPPONENTS
"It was good for us to play well on Sunday and no doubt it helps to get a solid win versus a good Michigan State team. We really need to get back to practice, work hard, and take it day by day to prepare for Wichita State and Ohio State."
HAWKEYES ON THE ROAD VS AT HOME
Iowa is 5-1 at home. The Hawkeyes recorded their first Big Ten win over Michigan State on March 18. Their only loss at home is to No. 37 Michigan. The Hawkeyes are 4-5 on the road.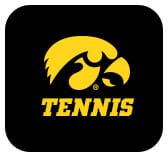 VAN HEUVELEN AND REIMCHEN ROCKING DOUBLES
Sophomore Elise van Heuvelen and senior Anastasia Reimchen have paired up for six doubles matches and posted a 5-0 record this season. They have defeated teams from Notre Dame, Iowa State, Penn State, and Michigan State and rolled a No. 13 ranked Northwestern team, 6-3. One match was unfinished.
HAWKEYES NEWEST ADDITION
Head coach Sasha Schmid announced Wednesday that Adrienne Jensen has joined the women's tennis team. Jensen is a native of Iowa City, Iowa. She previously played collegiate tennis at Drake University where she posted a 31-11 singles and a 21-13 doubles record. Jensen is expected to play on Friday.
TAKING ON THE SHOCKERS
Friday's match is the ninth meeting between Iowa and Wichita State (13-5). The Hawkeyes defeated the Shockers last year, 4-3, to tie the all-time series at four. Wichita State has two ranked singles players, No. 84 Fatima Bizhukova and No. 102 Sandra Honigova.
TAKING ON THE BUCKEYES
Sunday's match is the 47th meeting between Iowa and Ohio State (7-4). The all-time series is tied, 23-23. The Hawkeyes last defeated the Buckeyes, 4-2, at the 2013 Big Ten Tournament. Ohio State has three ranked singles players, No. 61 Shiori Fukuda, No. 103 Olivia Sneed, and No. 123 Anna Sanford.
BECOME A FAN
Fans can follow the Iowa women's tennis team at facebook.com and via twitter @Iowa_Tennis. Live results from this weekend are available on the Iowa women's tennis schedule page at hawkeyesports.com.
FOLLOW THE HAWKEYES
Links to live results and a live video stream will be available on the women's tennis schedule page at hawkeyesports.com.