Hawk Talk Monthly — March 2018 | Sign Up For Season Tickets | Ticket Renewal Link | Pro Day Photo Gallery
By DARREN MILLER
hawkeyesports.com
IOWA CITY, Iowa — A year ago, University of Iowa cornerback Josh Jackson was a bystander at Pro Day while trying to catch the attention of Hawkeye coaches at spring practice.
 
On Monday, he was back in the Stew and LeNore Football Performance Center, only this time participating in Pro Day and all eyes were on the 6-foot-1, 188-pound cornerback from Corinth, Texas.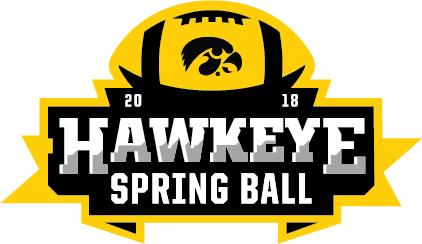 Jackson's meteoric rise in football can't be shared enough. Entering spring drills last March, he had one career collegiate start. In 26 games as a freshman and sophomore, Jackson made 18 tackles with six pass breakups. Of all the Hawkeyes, he seemed to benefit most from the 15 spring practices in 2017. Jackson was listed as first-team left cornerback following the spring and what transpired over the next 13 games was a consensus All-America body of work: 18 pass breakups, eight interceptions for 168 yards, 48 tackles.
 
He was named first-team All-Big Ten, the Tatum-Woodson Defensive Back of the Year, and was on every All-America team.
 
Jackson sees similarities between making an impression in spring ball and making an impression on the 53 NFL scouts and coaches at Monday's Pro Day.
 
"I'm trying to stay focused and show them my knowledge of the game and that I know what I'm doing," Jackson said. "I'll keep training, get ready for the Draft, and be the best player and person I can be."
 
There were a lot of "Good job" and "Atta boy" compliments hurled toward Jackson during Monday's individual workout session. On one particular play — when Josh Jackson was doing Josh Jackson things by using his 40-inch vertical leap and then spinning in the air to make an interception — an admiring scout let out an "Ooh, Wee. His ball skills are real."
 
When the NFL Draft begins April 26 in Dallas, Jackson is expected to be the ninth Iowa defensive back selected since 2008. He will join friend and former teammate Desmond King as a professional; King was selected in the fifth round last season by the Los Angeles Chargers. He made 76 tackles as a rookie, as well as intercepting a pass (for a 90-yard pick 6), returning 17 kickoffs, and one punt.
 
Jackson will spend most of April in Iowa City, working with the Hawkeye strength and conditioning staff while guys who were his teammates four months ago are going through spring practice.
 
"It's sad not to be there, but it is also a good thing because I am achieving my dreams," Jackson said.
 
He will continue to work on technique and fundamentals while "trying to build a better routine for myself and transition from amateurism to pro."
 
Jackson isn't concerned with projections that say he might be taken 15th by the Cardinals, 18th by the Seahawks, 32nd by the Eagles, or somewhere in the second round.
 
"They don't know what the general managers are thinking," Jackson said. "They are just predictions. You never know."
 
What he does know is that Monday's Pro Day went well. Jackson sped up his on-the-field drills, including backpedaling. He improved his results from the March 5 NFL Combine in 40-yard dash (4.52 seconds), 20-yard shuttle (3.95 seconds), and vertical jump (40 inches).  
 
"I feel the scouts were more impressed than they were at the Combine," Jackson said. "I had more time to focus on the drills (Monday). You're in your home environment so you have home court advantage."
 
In upcoming weeks, Jackson will visit several teams who requested personal tryouts. He will be asked over and over about his background, family, and friends.
 
"They want to know who you are as a person," Jackson said. "All the things that could be red flags, they want to get a second look and make sure they're drafting the right person."
 
Jackson will be the right person for one lucky team. Then he will attend camp and fight for playing time. He has been in that situation before.
 
 
Reminder that the football season ticket renewal deadline is March 30 (LINK). Visit hawkeyesports.com to sign up for new season tickets and be included in the seat selection process (LINK).