Hawk Talk Monthly — March 2018 | Sign Up For Season Tickets | Ticket Renewal Link | Pro Day Photo Gallery
Editor's Note: The following first appeared in the University of Iowa's Hawk Talk Daily, an e-newsletter that offers a daily look at the Iowa Hawkeyes, delivered free each morning to thousands of fans of the Hawkeyes worldwide. To receive daily news from the Iowa Hawkeyes, sign up HERE.
By JAMES ALLAN
hawkeyesports.com
IOWA CITY, Iowa — James Daniels has always wanted to play in the National Football League, but he never knew what the process leading up to the NFL Draft entailed.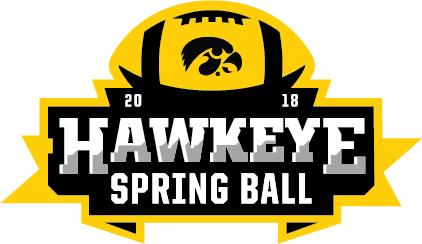 After a strong showing at the NFL Combine in Indianapolis from Feb. 27-March 5, Daniels was among 17 Hawkeyes participating in the Iowa Pro Day on Monday inside the Indoor Practice Facility.  Fifty-three NFL scouts and coaches attended, representing 31 of 32 NFL teams.
 
Daniels didn't do any testing Monday, as he let his NFL Combine numbers — 21 reps in the bench press, 30.5 vertical jump, 108.0 inch broad jump, 7.29 second 3 Cone Drill, and 4.4 second 20-yard shuttle run — stand. 
 
For Daniels, the Iowa Pro Day was about position group testing — a 35-40 minute session — alongside senior teammates Sean Welsh, Ike Boettger, and Boone Myers.
 
"At the combine, you know the exact drills," said Daniels. "(On Monday) the drills are position-oriented and you're doing specific drills. The Saints coach would have us do three drills then the Colts would have us do 2-3 drills.  It shows how good you can do drills when you don't know what to expect."
 
Daniels says scouts know what they're getting with Iowa football linemen. Hawkeyes will be fundamentally sound, hardworking, and coachable.
 
"(Scouts) know Iowa linemen are going to be tough, smart, and physical," said Daniels. "At other schools, like spread schools, they don't run the ball straight at people because they can beat people in space. At Iowa, we have to run the ball at you and pass protect on third down."
 
In three seasons as a Hawkeye, Daniels started 34 games, including 12 of 13 games as a junior when he was an honorable mention All-Big Ten selection.  He believes his Iowa career put him on a path to succeed in the NFL.
 
"It's because of how structured the program is," said Daniels. "You have to be in places on time. It's how coach (strength and conditioning coach Chris) Doyle runs the weight room.  Things like that translate to the NFL.  The structure of the proram is why why NFL scouts like Iowa so much."
 
That was part of the draw for Daniels when he joined the Hawkeyes as a four-star recruit out of Warren, Ohio.  He saw the player development and Iowa's propensity to place offensive linemen in the NFL.
 
"Iowa is not getting four or five-star prospects and their production of getting players, especially linemen, to the NFL is just as good as anywhere in the country," said Daniels. "I wish recruits would realize if you come to Iowa and go through the program, with how structured it is, you'll be at a huge advantage when it comes to the NFL."
 
With his NFL Combine performance, Daniels has seen his name pop up on more mock drafts, but much like preseason college football rankings, he says the mock drafts don't mean much.
 
"It's cool that people are noticing me," said Daniels. "But once they call my name in the real draft, it will mean a lot more than the mock draft."
 
Daniels' April will be a whirlwind leading up to the NFL Draft, which will be held April 26-28 at AT&T Stadium in Arlington, Texas. He has visits lined up from coast to coast, including stops in Dallas, Denver, Los Angeles, San Francisco, Chicago, Carolina, Philadelphia, among others.
 
Reminder that the football season ticket renewal deadline is March 30 (LINK). Visit hawkeyesports.com to sign up for new season tickets and be included in the seat selection process (LINK).