Hawk Talk Monthly — March 2018 | Sign Up For Season Tickets | Ticket Renewal Link | Pro Day Photo Gallery
Editor's Note: The following first appeared in the University of Iowa's Hawk Talk Daily, an e-newsletter that offers a daily look at the Iowa Hawkeyes, delivered free each morning to thousands of fans of the Hawkeyes worldwide. To receive daily news from the Iowa Hawkeyes, sign up HERE.
By JACK ROSSI
hawkeyesports.com
IOWA CITY, Iowa — Akrum Wadley isn't wavering on making his dream come true with less than a month until the 2018 NFL Draft.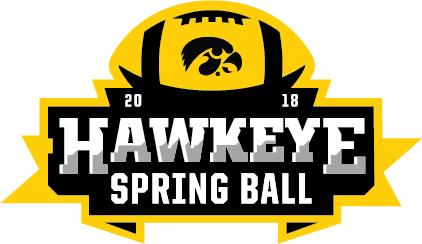 Wadley participated in Iowa's Pro Day on Monday in front of 31 NFL teams inside Iowa's Indoor Practice Facility. He completed drills and met with representatives off the field in the final stretch before April's draft.
 
"It's the NFL — my dream," Wadley said. "I have a few more workouts scheduled. Everything went the way I planned and prayed for it to go. It's still hard work; I'm not letting up. I feel like I've checked every box. I've been to the Senior Bowl, the NFL Combine, and now Pro Day."
 
Throughout the process Wadley has been in contact with all 32 NFL teams and has had the opportunity to meet prominent faces in the league.
 
"I talked to the Chiefs at the Combine and met Andy Reid," said Wadley. "I always watched him when I was little and finally got the chance to meet him. I was happy about that and I got a chance to work with the running backs coach from the Broncos at the Senior Bowl. It was a great experience."
 
On Tuesday, the Newark, New Jersey, native continued to build his football resume, working out for the Dallas Cowboys. Proving himself again isn't a new challenge.
 
Wadley was listed as a two-star prospect out of high school and spent the beginning of his collegiate career proving himself to coaches, players, and himself that he could be a Division I running back.
"Every day I have to prove myself," Wadley said. "I am always doubted. I am used to being doubted and it's good to have a chip on my shoulder. That makes me work harder."
 
When the countdown to the NFL Draft hits zero, Wadley hopes to erase all doubts and hear his name called in Arlington, Texas.
 
"I try not to worry about (where I get selected) too much because I did everything I can to put myself in the right position and make this possible," Wadley said. "I just will leave it up to whatever happens."
 
Looking ahead, Wadley's departure leaves the Iowa football program with a new generation of running backs who he sees as having bright futures similar to another running back tandem from a couple years ago – Wadley and LeShun Daniels, Jr.
 
"Toren (Young) and Ivory (Kelly-Martin) go together well," said Wadley. "Toren is the bruiser and Ivory will make you miss.  I want them to be better than LeShun and I."
 
The NFL Draft will be held April 26-28 in Arlington, Texas, inside AT&T Stadium on ESPN/ESPN2.