Hawkeye Fan Shop — A Black & Gold Store | 24 Hawkeyes to Watch 2016-17 | Fight For Iowa | Hawk Talk Monthly — March | Indiana and Purdue Notes
THIS WEEK FOR THE HAWKEYES
The University of Iowa women's tennis team is on the road with a match at Indiana on Saturday at the IU Tennis Center before traveling to Purdue on Sunday for a match at the Schwartz Tennis Center. Both matches begin at 11 a.m. (CT).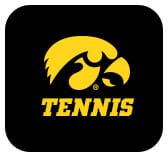 @SASHASCHMID ON BIG TEN ROAD MATCHES
"Indiana and Purdue are great teams and we are excited to compete again this weekend. This is a fun time of the season when we get to play exciting matches every weekend."
HAWKEYES ON THE ROAD 
Iowa's match at Indiana is its first of five straight on the road. The Hawkeyes are 4-6 on the road. Three of their losses are to teams ranked 33rd or higher. Iowa grabbed a win at in-state rival Iowa State and broke a 19-year losing streak at Notre Dame.
HUCKLEBY IMPRESSES IN SINGLES
Junior Adorabol Huckleby claimed two singles victories last week. Going into  the week she had posted a 6-6 singles record, and with her two wins she improved to 8-6. Positioned at the No. 4 spot, she defeated her opponent from Wichita State in straight sets, 6-3, 6-2. Her win over Ohio State's Emma DeCoste was Iowa's lone win. She won her first set, 6-4, dropped her second in tiebreaker, 7-6 (1-7), and came back to win the match tiebreaker, 1-0 (10-6). 
TAKING ON THE HOOSIERS 
Saturday's match is the 46th matchup between Iowa and Indiana. The Hoosiers lead the all-time series, 34-11. The Hawkeyes topped the Hoosiers last year, 6-1. 
TAKING ON THE BOILERMAKERS
Sunday's match is the 50th matchup between Iowa and Purdue. The Boilermakers lead the all-time series by one match, 25-24. Iowa defeated Purdue in 2010, 6-1. 
BECOME A FAN
Fans can follow the Iowa women's tennis team at facebook.com and via twitter
@Iowa_Tennis. Live results from this weekend are available on the Iowa women's tennis schedule page at hawkeyesports.com.
FOLLOW THE HAWKEYES
Links to live results and a live video stream will be available on the women's tennis schedule page at hawkeyesports.com.