Hawkeye Fan Shop — A Black & Gold Store | 24 Hawkeyes to Watch – 2017-18 | Hawk Talk Monthly – March 2018
Editor's Note: The following first appeared in the University of Iowa's Hawk Talk Daily, an e-newsletter that offers a daily look at the Iowa Hawkeyes, delivered free each morning to thousands of fans of the Hawkeyes worldwide. To receive daily news from the Iowa Hawkeyes, sign up HERE.
By BREANNA KELLOGG
hawkeyesports.com
IOWA CITY, Iowa — On the surface, it looks like University of Iowa sophomore rower Hannah Greenlee went against the family norm in choosing the University of Iowa. She grew up in Ames, Iowa, both parents work at Iowa State University, and her father was a wrestler at University of Northern Iowa.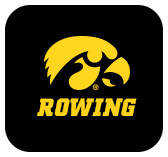 However, by becoming a Hawkeye rower, Greenlee is following in the footsteps of one of another family member, Aunt Anne West.
"I knew my aunt rowed at Iowa but I did not know a lot about how successful she was until I got here," said Greenlee. "I have slowly been learning more, like she was a runner-up for the NCAA Female Athlete of the Year. It has been cool and inspiring to learn her Hawkeye story."
Former senior associate athletic director/senior woman administrator, Paula Jantz, helped Greenlee get a glimpse of her aunt's time on the team. Jantz had a collection of articles to share with Greenlee.
During her tenure on the women's rowing team, Anne West was named a top 10 finalist for the NCAA Woman of the Year in 1998. A three-time letterwinner, she also won the Big Ten Medal of Honor in 1998 and 1999, and was named to the Dean's List all four years.
It was not until her aunt suggested looking into rowing that Greenlee gave the sport any thought.
"I came to a couple introductory clinics at the University of Iowa because my aunt recommended that I look into it," said Greenlee. "I had a good experience so I ended up joining the Des Moines Rowing Club near the end of high school so that I would be better prepared when I got to Iowa."
While she is following her aunt's footsteps in rowing at Iowa, Greenlee is making the most of the opportunity and forging her own path. Rowing and their experience at Iowa is something they share, but Greenlee is making her own way and her own name in the sport.
"Rowing was one of the main reasons I came to the University of Iowa," said Greenlee. "I was ready to get out beyond Ames. I came on a visit and liked it. The atmosphere was cool, the coaches were cool, and they had the programs I was interested in. It had a lot to offer."
On the rowing team, Hannah has been an important part of a surging team that has been setting program records. As a freshman, she made the roster for the Hawkeye's first NCAA Championship appearance in 16 years. As a sophomore, she has become a key member of the team's top crew.
While Greenlee may be forging her own path, rowing is something that will always be a special connection between her and her aunt.
"I look up to my Aunt Anne," said Greenlee. "She is passionate about rowing and it is cool to see her get excited about it because it is something I am excited about."
The Hawkeyes open the spring season at the Pac-12 Invitational on March 31 and April 1 at Stanford. Competition is scheduled to begin at 11 a.m. (CT) at Redwood Shores.