Hawkeye Fan Shop — A Black & Gold Store | Fight For Iowa | Hawk Talk Monthly — March 2018 | Big Ten Tournament Central
Editor's Note: The following first appeared in the University of Iowa's Hawk Talk Daily, an e-newsletter that offers a daily look at the Iowa Hawkeyes, delivered free each morning to thousands of fans of the Hawkeyes worldwide. To receive daily news from the Iowa Hawkeyes, sign up HERE.
By BAILEY TURNER
hawkeyesports.com
IOWA CITY, Iowa — The University of Iowa men's tennis team has seen success on the doubles courts this season. The Hawkeyes boast three tandems with above .500 records and the team has won the doubles point in 16-of-21 matches — all while starting three freshmen in the lineup.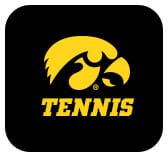 "It's not the norm for a Division I college tennis team to start three freshmen," said Iowa head coach Ross Wilson. "Those guys have worked hard all season and have natural doubles skills. That is why they have transitioned so quickly."
Junior Jonas Larsen and sophomore Kareem Allaf lead the way on court one with a national ranking and an 11-6 record.
"The experience of playing together has helped both of those guys tremendously," Wilson said. "They both have grown so much. They played a lot of close matches last year that they were unable to finish. They are making a lot more first serves, they also improved their volleys, and put the ball away when needed."
Following by example, might be the biggest surprise of the year, freshmen Will Davies and Piotr Smietana. These two have ascended to an ITA top-40 ranking in just their seventh month on campus.
More impressively, Davies and Smietana went on an 11-match win streak from Jan. 29 through March 18. Along the way, they handed Oregon's 16th-ranked doubles team of Thomas Laurent and Cormac Clissold only their third loss.
"We managed to control the match from the beginning, so were able to dictate play," said Davies. "Beating the No. 16 team in the country was a great moment for us. I was happy to be a part of something that special."
Allaf and Larsen have also played their way into the ITA rankings, owning a 4-2 record versus ranked foes. The duo posted two wins over ranked opponents last weekend, bouncing the 47th-ranked team from Illinois and No. 56 tandem from Northwestern. The also downed the 17th-ranked team from Dartmouth in February.
In doubles, one of the keys to having success is having good chemistry.
"Jonas and I played last year in my freshman season," Allaf said. "It was tough at first to acclimate to doubles, but we played a lot to get together and we were able find out what we were good and what we needed to work on. We learned a lot moving forward and that has made us better on and off the court."
Iowa is 11-5 when winning the doubles point.  If the team wants to accomplish its goal of earning an NCAA Tournament berth, they know what they have to do.
"The doubles point is so crucial in a dual match," Wilson said. "It's tough to beat another team four out of six times in singles, so if you can get the doubles point all you have to do is split singles. I think with exception of two matches, we have done a great job coming out of the gates and playing good doubles."
The Hawkeyes return to action this weekend Friday, playing a road doubleheader against Dayton and nationally-ranked Ohio State. Iowa closes out the road trip in Happy Valley, facing Penn State on Sunday afternoon.