Hawkeye Fan Shop — A Black & Gold Store | 24 Hawkeyes to Watch – 2017-18 | Hawk Talk Monthly – March 2018
Editor's Note: The following first appeared in the University of Iowa's Hawk Talk Daily, an e-newsletter that offers a daily look at the Iowa Hawkeyes, delivered free each morning to thousands of fans of the Hawkeyes worldwide. To receive daily news from the Iowa Hawkeyes, sign up HERE.
By MADISON PETERSEN
hawkeyesports.com
IOWA CITY, Iowa — While this is the fourth consecutive year that the University of Iowa women's gymnastics team will be attending the NCAA Regionals, this year's path to the postseason was different than most.
 
"We are excited to be going to regionals," said Iowa head coach Larissa Libby. "It has been a long year, very trying with a lot of injuries, and there was a point where we just weren't sure if we would make it. It has been a new perspective for us. This is our fourth regional in a row, but it's probably been the most difficult one to earn."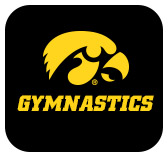 With only the top 36 teams qualifying for NCAA postseason, the GymHawks secured their spot at No. 35 nationally by earning a season-high 196.400 to finish fourth at the 2018 Big Ten Championships on March 24.
 
"We have grown so much over the season, but we've always had this belief in each other that we were going to make it," said senior Lanie Snyder. "We had to hit it at the Big Ten Championship and we did, so we're in."
 
The GymHawks are not ready to stop after their long battle to regionals.
 
"I feel blessed every time I get to go on the floor with these kids. It is an honor to be selected, but in the back of our minds, we're not going there to play, we're going to win," said Libby.
 
"People counted us out at the Big Ten Championships and that was a mistake. I don't believe that we're not up there with the best teams in the country. We're going there to prove that. There's no pressure on us. As a sixth seed, we can go out, do gymnastics, enjoy the atmosphere, and love every second of it. Our goal is to control the environment, attitudes, effort, have a blast, and make sure that the stands are filled with Hawkeye fans."
 
The GymHawks feel that they are hitting their routines and peaking in time for postseason competition.
 
"I think we have been building to this all year," said senior Nikki Youd. "We all trust each other and I think we're peaking at the right time. We've been working hard and I know we're ready."
 
"I think our confidence has been building all season," said junior Nicole Chow. It helps me personally when the team is hitting routine after routine — that makes me feel better about myself when I go up there. I think the team has done a good job of doing that."
 
While the NCAA regional competition is exciting to the entire team, it is extra special to the senior GymHawks.
 
"This is my fourth year going to regionals and it never gets old seeing your name pop up there and being able to compete with the best in the country," said Youd. "I cherish any opportunity I get to compete with this team, so it's exciting to be able to do it a little longer."
 
"As a senior, this means at least one more time to compete," said Snyder. "I'm soaking up every minute of it."
 
The Hawkeyes compete at the NCAA Minneapolis Regional on April 7 at 4 p.m. (CT) inside the Maturi Pavilion. Fans can follow through live streaming and live stats on hawkeyesports.com.