24 Hawkeyes to Watch 2017-18 | Hawk Talk Monthly — April 2018 | Sign Up For Season Tickets
Editor's Note: The following first appeared in the University of Iowa's Hawk Talk Daily, an e-newsletter that offers a daily look at the Iowa Hawkeyes, delivered free each morning to thousands of fans of the Hawkeyes worldwide. To receive daily news from the Iowa Hawkeyes, sign up HERE.
By RICK BROWN
hawkeyesports.com
IOWA CITY, Iowa — In his role as the University of Iowa's football recruiting coordinator, Kelvin Bell has a ready-made ace up his sleeve. It's one word. Longevity.
 
College football seems to be in constant change, from a merry-go-round of coaching changes to the addition of an early signing period last season that has changed recruiting calendars for every program.  But Kirk Ferentz is entering his 20th season as Iowa's head coach, the longest active streak among all NCAA Division I programs. Bell can sell calm on a stormy landscape.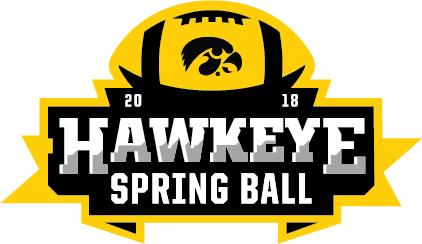 "The one thing I think is a benefit for us in terms of a selling point is that in college football, a lot of things have happened," said Bell, who is in his sixth season on Ferentz's staff and also serves as an assistant defensive line coach. "Coaches move around, and a lot of things can happen.
 
"The landscape doesn't look the same in August as it will look in January or the next year. The kids we are recruiting now, one thing they can bank on is that it is going to look the same around here, regardless if you are committing now or committing on Dec. 1. I can guarantee you that we'll be here in January."
 
Bell has another recruiting tool he uses, especially when Iowa has been portrayed in a negative light by another school. It's called first-hand experience.
 
"I tell them my recruiting story," Bell said. "That's as big as anything I can sell."
 
The Hawkeyes recruited Bell out of Olive Branch High School in Mississippi. Bell still remembers Phil Parker, on Ferentz's first staff and now the Hawkeyes' defensive coordinator, walking into his school in  December  of 1999 and putting him against a wall to see how tall he was.
 
"Now I work here and I work for Phil Parker," said Bell, a defensive lineman whose Iowa career was cut short by injury. "You don't have that story in any other college, I guarantee. Because of the type of stability and longevity we have, it's unprecedented."
 
Bell's experience comes in handy when he tries to connect with a recruit from outside Iowa who might bring a long list of stereotypes with him.
 
"I'm not from the region, so I can tell them my thoughts before visiting Iowa, my thoughts while I was at Iowa, and then, after I graduated, my thoughts and reflections on Iowa," Bell said. "I tell kids that anything anyone's ever told you about Iowa, if it's negative, I can guarantee they've never been there. Is it cold? Yes. It's cold in Chicago and Minneapolis, it's cold in the Midwest.  But until you take a visit how can you ever know?
 
"That's the challenge in recruiting, to get those kids here. And myself, I feel like I'm in a really good position to sell my experiences here."
 
Iowa also has star power sell to recruits. Cornerback Josh Jackson, a consensus All-American, has been invited to attend the first round of the NFL Draft on April 26 at AT&T Stadium in Arlington, Texas. He has a good shot at becoming the eighth first-round draft pick of the Ferentz era, and first since offensive lineman Brandon Scherff went to the Washington Redskins with the fifth pick in 2015.
 
Hawkeye center James Daniels, who left with a season of eligibility remaining as did Jackson, is also getting some potential first-round talk.
 
"Those names have star power, and those (recruits) know those names," Bell said. "But they don't know the stories behind them. Their stories are much more meaningful. They impact kids much more, about how they arrived here."
 
Jackson was a lighty-recruited two-star prospect out of Lake Dallas High School in Corinth, Texas.
 
"We didn't recruit Josh Jackson with the thought of him being a consensus All-American," Bell said. "We wanted him to come in, fit into our culture, and do the things that we asked him to do. Credit to him, he did the work and took advantage of every opportunity given to him. We tell kids, you have that opportunity. Josh Jackson was an under recruited guy who made himself a consensus All-American. So those stories are real, and they can happen here."
 
No promises, but plenty of opportunity. That has been the approach since Ferentz replaced Hayden Fry as head coach in 1999. Sometimes, there's a little tough love mixed in.
 
"Sometimes, I wish I could be more positive (in practice),"Bell said. "But I don't want anyone to be complacent. I don't want our kids to have a false sense of who they really are. (Defensive end) Parker Hesse, I tell him all the time, 'You're a two-star quarterback from Waukon, Iowa, that chose between Iowa, UNI, and South Dakota State. That's not a lot to brag about.'"
 
Creating an edge on the practice field can lead to consistency on game day. And the end result plays into Bell's biggest sales pitch on the recruiting trail: Longevity.