Hawk Talk Monthly — April 2018 | I-Club Events Page | Sign Up For Season Tickets
By DARREN MILLER
hawkeyesports.com
IOWA CITY, Iowa — University of Iowa quarterbacks coach Ken O'Keefe was more than willing to discuss the progress of Nate Stanley, Peyton Mansell, and Spencer Petras at a news conference Tuesday in the Stew and LeNore Hansen Football Performance Center.
 
But after his 20 minutes at the podium, he let the media know his take on the top scoop for 2018 Hawkeye football.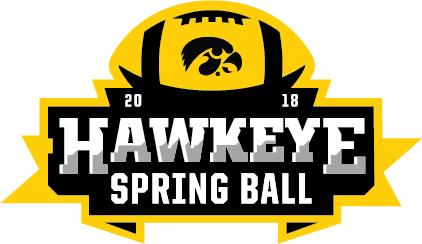 "You guys know what the biggest story is though this year?" O'Keefe asked. "The biggest story is the head coach (Kirk Ferentz) — the guy has been head coach of a Division I program the last 20 years. I think that is a pretty darn big deal. You ought to find out how that happened, never mind all this little stuff you're dealing with me."
 
O'Keefe is entering his 15th season at Iowa and with Ferentz. He has a luxury with the return of Stanley, who started all 13 games last season, including the Hawkeyes' 27-20 victory over Boston College in the New Era Pinstripe Bowl. Stanley completed 56 percent of his passes with 26 touchdowns and six interceptions. He averaged 187.5 passing yards per game.
 
"Nate has a year under his belt and a spring and a fall camp which helps a lot and has made a big difference in how he operates," O'Keefe said. "His decision-making is much faster; the process of making those decisions is at a different speed than it was at this time last year.
 
"Learning the system and trying to work your way through progressions is not the easiest thing in the world to do the first time you are introduced to it. Once you learn it and become comfortable with it, it works out pretty well. He has done a good job of doing the things necessary to learn the system: study the playbook, study the video. He can draw it all up and now he is teaching it to the other guys in the room."
 
There are two freshmen quarterbacks on scholarship: Peyton Mansell, who used a redshirt last season, and Spencer Petras, who in the fall led Marin Catholic (California) High School to a 12-1 record by passing for 4,157 yards and 50 touchdowns.
 
On Mansell:
 
"It is so hard to explain the level of improvement and how it jumps from the time you're a freshman who walks onto campus when we get a chance to coach you in August until now, when we started in March," O'Keefe said. "His footwork is different and everything is sped up. He has an understanding of what we're looking for. The improvement is so vast it is hard to describe it all."
 
On Petras:
 
"Spencer had a great career at Marin Catholic," O'Keefe said. "Spencer was the right fit, he has a tremendous personality, you love him as a kid. He has an ability to learn the game that is special and he has worked extremely hard to do that since he has been here. He has a good knack for feeling things on the field as well. We're glad he's here."
 
O'Keefe said spring ball is about finding where the ceiling might be for student-athletes and pushing hard to facilitate growth.
 
"The measuring stick is, can you continue to improve?" O'Keefe said. "We're after that at every position, we're after that as a unit offensively, we're after that as a football team. That's how we measure ourselves in Iowa football, it has always been that way and it's not going to change."
 
Iowa's final spring practice will be April 20 inside Kinnick Stadium, beginning at 7 p.m. (CT). It will be open to the public.
 
Returning University of Iowa students are encouraged to grab their 2018-19 football and men's basketball season tickets this spring to guarantee they have seats before the incoming class has an opportunity at the remaining inventory.  Current students can purchase their seats HERE.
Sign up as a new football season ticket holder to get the best available locations in the 2018 seat selection process.  Click HERE to add your name to the list. 
 
The Hawkeyes play their first four games at Kinnick Stadium, beginning with Northern Illinois on Sept. 1.