Hawkeye Fan Shop — A Black & Gold Store | Fight For Iowa | 24 Hawkeyes to Watch 2017-18 | Hawk Talk Monthly — April
Editor's Note: The following first appeared in the University of Iowa's Hawk Talk Daily, an e-newsletter that offers a daily look at the Iowa Hawkeyes, delivered free each morning to thousands of fans of the Hawkeyes worldwide. To receive daily news from the Iowa Hawkeyes, sign up HERE.
By JAMES ALLAN
hawkeyesports.com
IOWA CITY, Iowa — Elise van Heuvelen had never been to the United States and didn't know the first thing about  the University of Iowa when she made contact with the Hawkeye women's tennis program.
 
She couldn't even pinpoint where Iowa was on the map when van Huevelen made her first trip from Seaford, East Sussex, England. When she arrived, she fell in love with everything Hawkeye.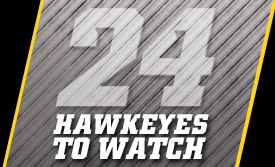 "I came here on my own," said van Huevelen. "The first time I flew through Chicago, seeing the big city and flying to Iowa was so cool. (Coming here) was the best decision I made."
 
Former Iowa head coach Katie Dougherty reached out to van Huevelen after seeing a YouTube video.  Dougherty made contact and the rest is history with an assist from future teammate Zoe Douglas, a native of Papworth Everard, England.
 
"I was contacting her and asking a lot of questions, getting a different insight to the team and university," said van Huevelen. "That helped. She played a big role in getting me here and I got a lot more out of my visit."
 
After earning a world ranking as a junior and winning National School Championships at Bedes Senior School, van Huevelen hit the ground running as a Hawkeye.  First-year head coach Sasha Schmid knew immediately that she was blessed to coach this special talent.
 
"She is someone that has so much physical, natural ability, and you combine that with somebody that generally loves to play the sport," said Schmid. "She lives and dies with tennis and has fun competing.
 
"I knew she was a strong player before she arrived on campus. I had not seen her in person, but I knew she was talented. Soon after, I became head coach at Iowa, I had multiple coaches from across the country call me and tell me how much I was going to love Elise."
 
As a freshman, van Huevelen stepped into Iowa's lineup at No. 1 singles, where she posted 13 victories, tying for the team lead in singles wins.  She also played No. 1 doubles, primarily teaming with Douglas, to post a 16-5 record and the duo ascended as high as No. 80 in the ITA rankings. 
 
The first-year success led to van Huevelen earning first-team All-Big Ten honors and being named the Big Ten Freshman of the Year. She was also named the Iowa athletics department's Newcomer of the Year at the Golden Herky Awards.
 
"She had a great freshman year, especially coming from abroad when there are a lot of things to transition to," said Schmid. "Being with a new coach, making the transition to college academically, and all the other things thrown at a college freshman; she handled that well."
 
A foundation was built with van Huevelen's success. As a sophomore, Schmid says van Huevelen has become more outgoing.
 
"We had to coax her out of her shell when she got here and to make a good effort to celebrate points and carry on that momentum," said Schmid. "Once she got the hang of that, it brought out a different side of her.  I feel like her positive energy and feistiness complement her play and that has been rolling in a positive direction."
 
The sophomore season has been solid for van Huevelen. She is 13-8 in singles at No. 1 and No. 2, while going 14-5 in doubles, splitting time between the top two spots in the lineup.
 
"Sophomore year can be hard when you have come off such a successful freshman year," said Schmid. "She dealt with that in the fall with some expectations and trying to settle into continuing to work on her game and improve.  There has been a big maturity process I has gone through and she can continue to improve and play at the highest levels."
 
Against nationally ranked opponents, van Huevelen is 1-3 with a victory over No. 88 Lee Or of Northwestern on March 4 in Evanston, Illinois.  Schmid sees more ranked wins as part of van Huevelen's progression
 
"Being able to get some good consistent, quality nationally-ranked wins is something that Elise has a goal of accomplishing," said Schmid. "That will help her get into the top ranks of college tennis. When you establish yourself as a top 50 player then she'll get invited to national tournaments and that will continue to open doors for her."
 
Iowa is 10-11 as a team this season with two Big Ten victories.  The Hawkeyes have three regular season matches remaining before the Big Ten Tournament.