Hawkeye Fan Shop — A Black & Gold Store | 24 Hawkeyes to Watch 2017-18 | Hawk Talk Monthly – March 2018
Editor's Note: The following first appeared in the University of Iowa's Hawk Talk Daily, an e-newsletter that offers a daily look at the Iowa Hawkeyes, delivered free each morning to thousands of fans of the Hawkeyes worldwide. To receive daily news from the Iowa Hawkeyes, sign up HERE.
By SHANE STURTZ
hawkeyesports.com
IOWA CITY, Iowa — Last season as a freshman, Alex Schaake competed in 10 events, including the Big Ten Championships and NCAA Regionals, but never finished a tournament under par. Playing mostly as the fourth and fifth person in the Hawkeye lineup, Schaake was learning the ropes of college golf.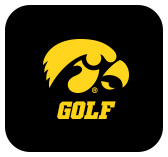 It was clear Schaake was ready to make a name for himself after firing a third-round 66 (-4) in last year's Big Ten Championships to help the Hawkeyes tie for fourth. It was Schaake's coming out party and head coach Tyler Stith knew he was a relentless competitor.
 
"Some people are just winners and that's Alex," Stith said. "He has won at every level: high school, junior, and amateur golf. The next step for him is to win a collegiate tournament."
 
Schaake is still looking for that milestone, but this year all he has done is lead the team in 18-hole scoring average (71.70), rounds at or below par (nine), and top-10 finishes (three), while being one of three Hawkeyes to fire a 67.
 
Schaake credits his sophomore success to practices being set up to his liking along with improved driving and putting.
 
"The main thing that I've done differently is driving the ball better," Schaake said. "The tournaments I've played well in, I've been putting well. If you can do those two things, you'll be fine in college golf."
 
Fine, indeed. Schaake has been Iowa's top finisher in five of eight stroke-play events this season.
 
His best performance of the season came in the second tournament of the year at the Golfweek Conference Challenge in Cedar Rapids, Iowa. He birdied the challenging 18th hole in every round to record three straight under-par rounds to card his 54-hole career low of 208 (-8; 70, 70, 68) at the time.
 
His confidence blossomed after that tournament in the fall. After two more top-five finishes in the Windon Memorial Classic and Southern Intercollegiate, his confidence continues to be a key contributor to his success, no matter the results.
 
"After the Schenkel (Invitational) and the tournament in Athens, I had a lot of confidence going into Oregon, but we didn't play very well," Schaake said. "I hit it well, just around the greens it was tough. I'm not going to let that drop my confidence."
 
Schaake's highlights cannot hide the team's struggles. The Hawkeyes are on the outside looking in to make their 10th consecutive NCAA Tournament after failing to put three consistent rounds together at certain tournaments. But Schaake is more than ready to run the table, starting today with the Hawkeye Invitational at Finkbine Golf Course in Iowa City.
 
"We have three tournaments that we are familiar with," said Schaake. "We're going to have to put together a good run to make the postseason. If we can get a win at Finkbine and play well at the next two tournaments, we can maybe get there, but if worst comes to worst, we're going to have to win the Big Ten Championships."
 
Admission to the Hawkeye Invitational at Finkbine is free to the public. Competition on Friday consists of 18 holes beginning at 1:30 p.m. and 36 holes on Saturday starting at 9 a.m.