Hawkeye Fan Shop — A Black & Gold Store | 24 Hawkeyes to Watch – 2017-18 | Hawk Talk Monthly — April 2018
Editor's Note: The following first appeared in the University of Iowa's Hawk Talk Daily, an e-newsletter that offers a daily look at the Iowa Hawkeyes, delivered free each morning to thousands of fans of the Hawkeyes worldwide. To receive daily news from the Iowa Hawkeyes, sign up HERE.
By BREANNA KELLOGG
hawkeyesports.com
IOWA CITY, Iowa — Rowing is a challenging sport that requires a significant amount of time and practice. For University of Iowa rowers Logan Jones, Hunter Koenigsfeld, Alexis Chamness, and Katie Becker, the challenge is even bigger as nursing students.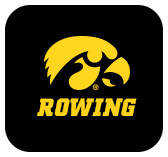 "It is a lot of time management," said Jones. "I am constantly running from clinical to practice, so I have to squeeze in homework and studying for tests. I study on the bus coming home from races."
 
Chamness credits the University of Iowa — whether it be the athletics department, rowing coaches, or nursing program — with making the balancing act manageable.
 
"There are some class conflicts that come up, but the coaches are supportive and understanding with making it all work out," said Chamness. "The professors also help reschedule when you have to miss class due to travel. It all works out as long as you communicate with everyone. Also, there are tutors within the athletics department, along with nursing supplemental instruction, which both help a lot."
 
Along with the resources the university provides, it helps to have a group of teammates who are all going through the same thing. They help each other out and pick each other up, empathizing with what their peers are going through.
 
For freshman Katie Becker, that has made all the difference.
 
"It is nice to see the upperclassmen excel at balancing their duties as a rower and nursing student," Becker said. "It shows that I can do it. It is possible. If she can do it, I can do it. I just have to set my mind to it and I can achieve it."
 
A member of the I Varsity Eight crew, Koenigsfeld was not directly admitted into the nursing program at Iowa. She is going through the process of competitive admission, having just submitted her application. Even though she knows the challenges both rowing and nursing will give her, she knows that she can do both.
 
"A lot of people will tell you that it is going to be hard and difficult, but I would argue that if you are not doing something hard and difficult, then maybe you should challenge yourself a little more," said Koenigsfeld. "It is manageable. I would not be scared by it. You just take it day-by-day."
 
No matter what the challenges may bring, being a rowing student-athletes and in the nursing program is a rewarding experience.
 
"It is doable to do both," said Jones. "Both rowing and nursing teach you good life skills. It teaches you how to be a leader, how to be responsible, and how to work well on a team. They complement each other."
 
The 11th-ranked Hawkeyes return to action Saturday, traveling to Princeton, New Jersey, to race against No. 4 Princeton and No. 6 Yale. Competition is scheduled to begin at 8 a.m. (CT).