IOWA CITY, Iowa – – The University of Iowa will conclude spring practice with an open to the public final practice Friday, April 20, at Kinnick Stadium, presented by Coca-Cola. The practice will begin at 7 p.m., with gates opening at 6 p.m.  There is no admission charge.
 
The final practice will be streamed by BTN on BTN2GO. The Hawkeye Sports Network will be on the air from 7 to 8 p.m., with Gary Dolphin, Ed Podolak, and Rob Brooks discussing spring football and the upcoming season.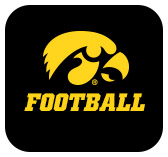 Sections 122 through 128 will be open on the west side of Kinnick Stadium, along with the entire south grandstands. Gates B and E will open at 6 p.m. All parking lots will open at 5 p.m. Roster cards and 2018 poster schedules will be available at the entrances. Normal game day procedures will be in effect. Patrons should expect delays if they are attempting to carry purses or bags into Kinnick Stadium.
 
Complimentary parking will be available in all surface lots near Kinnick Stadium. Fans are reminded that Iowa City ordinance prohibit the consumption of any alcoholic beverage on UI and public property, which includes UI parking lots and parking ramps. As in the past, the ordinance is in effect on the day of the final spring practice.
 
Fans with recreational vehicles will be able to park Friday after 5 p.m. in UI Lot 75 south of Carver-Hawkeye Arena. Please note:  normal daily parking rates will be in effect in the parking ramps adjacent to UI Hospitals and Clinics.
 
The autograph session which has been a part of spring practice activities in the past, will be held as part of Kid's Day in the fall. Sponsored events will be held near Gate B and Gate H inside the stadium, including Coca-Cola, Nissan, and The Hawkeye Fan Shop.  There will not be activities held in Krause Family Plaza outside the stadium.
 
Fans attending the open practice will also have the opportunity to sign one of the large construction beams that will be put in place in the north end zone as part of the Kinnick Edge project.  The beam will be located inside the concourse near Gate G. General public signing of the beam will begin at 6 p.m.
 
The Hawkeyes open the season with four straight home games, beginning Sept. 1 against Northern Illinois. Iowa also hosts Iowa State in the Iowa Corn Cy-Hawk Series (Sept. 8), and Northern Iowa (Sept. 15) before opening Big Ten Conference action Sept. 22 against Wisconsin, the defending West Division champions.
 
Following September, Iowa home games include Homecoming versus Maryland, Family Weekend versus Northwestern, and the Hy-Vee Heroes game against Nebraska on the day after Thanksgiving. Wisconsin (13) and Northwestern (10) each won at least 10 games last season, while Northern Illinois, Iowa State, and Northern Iowa each won eight games and participated in postseason play. Iowa closed the 2017 campaign with wins at Nebraska (56-14) and over Boston College (27-20) in the New Era Pinstripe Bowl.
 
Questions concerning the purchase of 2018 football tickets, including general public, UI faculty/staff and UI student seasons tickets by current UI students, should be directed to the UI Athletics Ticket Office.  The office is open weekdays from 9 a.m. to 4 p.m.  The office telephone number is 1-800-IA-HAWKS.  Information is also available at hawkeyesports.com/tickets.