Hawk Talk Monthly — April 2018 | I-Club Events Page | Sign Up For Season Tickets
By DARREN MILLER
hawkeyesports.com
IOWA CITY, Iowa — Someone once said, "Spring is when you feel like whistling, even with a shoe full of slush."
 
Weather-wise, it has been a slushy spring in Iowa City, but Friday's return of football to Kinnick Stadium was worthy of a collective whistle.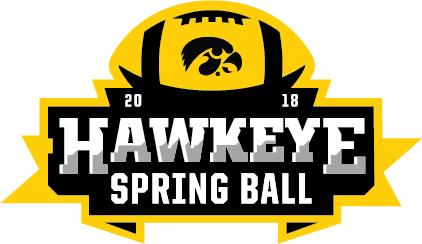 An added bonus was "opening kickoff" temperature in the 50s.
 
The last time we saw these Hawkeyes, they were playing football in a baseball stadium. On Friday, they wrapped up spring football drills during baseball season.
 
Oh, the seasonal paradox known as Division I college football.
 
For University of Iowa junior quarterback Nate Stanley, spring ball of 2018 went much smoother than the spring of 2017. A year under the belt will do that for a gifted quarterback. But head coach Kirk Ferentz, who has been through 20 of these nontraditional minicamps, is quick with caution. It's April, after all, not August.
 
"We still haven't completed a pass this year in a (regular season) game," Ferentz said Friday after the 15th and final practice of the spring.
 
Stanley vows he is more comfortable with coaches and an offensive system that produced 330 yards and 28 points a game in 2017. 
 
"We haven't made a first down (in a regular season game), so we have a lot of work to do that way," reminded Ferentz.
 
So it is with spring ball. There is reason to whistle, but there is also slush in the shoes. This is known: Stanley is bigger, smarter, and more experienced than he was a year ago when he led the Hawkeyes to eight wins, including a 27-20 victory over Boston College in the New Era Pinstripe Bowl.
 
By the way, it was 23 degrees at kickoff for the Pinstripe Bowl (13 wind chill), more than 30 degrees cooler than it was on this beautiful Friday evening inside Kinnick Stadium. Nearly 10,000 Hawkeye fans took a break from grossing over Iowa's unseasonable weather to watch their Boys of Spring go through the paces of a 90-minute workout in full garb.
 
Memories were still fresh of the late December bowl victory in the Bronx. Stanley completed 8-of-15 passes for 99 yards and a touchdown during his postseason performance inside a cold and windy Yankee Stadium. He led the Hawkeyes on a game-winning fourth-quarter drive with three minutes to play.
 
They played actual baseball in Yankee Stadium on Friday (for the record, it was 46 degrees at first pitch). Meanwhile, Stanley was back on his home field. It is a more developed version of the guy who directed Iowa to wins in four of the final six games…and its first bowl victory in seven seasons.
 
"The second year in this system, being comfortable with the coaches and continuing to strive for consistency every day," Stanley said. "This spring we worked hard on that and took a step forward.
 
"Everyone is more comfortable out here. That leads to being more consistent, being able to make decisions quicker, and being able to take the next step."
 
The next step is a return to the workshop. Ferentz says it, so does his second-year starting signal-caller.
 
"We've got a lot of work to do," said Ferentz, whose next victory will be more than any head coach in the history of Hawkeye football.
 
"There is still a lot of room for improvement," said Stanley, who last season completed 56 percent of his passes for 2,437 yards and 26 touchdowns.
 
Upping his completion percentage was Stanley's primary objective in March and April; for the most part, he feels on track.
 
"That comes with ball placement," Stanley said. "Throughout the spring, that is something I have continued to improve. It isn't perfect yet and I want to continue to build on that."
 
Ferentz knows that Iowa's offense has progressed. He also knows there are plenty of unknowns.
 
"We've got a lot of guys on our offensive team in particular that are further along the road," Ferentz said. "How good can we be? Then, how much can we develop depth? We've got a lot of questions that way."
 
More will obviously be known during the hot, humid days of summer. That's when fall camp begins.
 
And hopefully, when all the slush dissolves.