Hawkeye Fan Shop — A Black & Gold Store | Fight For Iowa | Photo Gallery | Hawk Talk Monthly — April | Wisconsin Box Score
 
IOWA CITY, Iowa— The University of Iowa women's tennis team fell to Wisconsin, 4-1, on Sunday on the Klotz Outdoor Tennis Courts at the Hawkeye Tennis and Recreation Complex. 
 
The Badgers grabbed the doubles point to start off the match with wins on courts No. 1 and No. 3.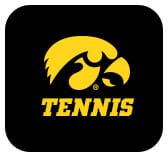 In singles, senior Anastasia Reimchen won her final match as a Hawkeye on senior day at the No. 3 position against MaryAnn Rompf, 6-1, 6-4, to complete her final season with a 13-10 singles record. 
 
"I am absolutely thrilled to have finished on such a great note," Reimchen said. "I've always dreamed of finishing my college career here on a high note, and I think that is exactly what was going through my head when I was playing."
 
Wisconsin captured the match after Iowa dropped its matches on courts No. 4, No. 6, and No. 2. 
 
The Hawkeyes finish the regular season, 2-9 in the Big Ten, and 10-14 overall. 
 
QUOTING HEAD COACH SASHA SCHMID
"It's unfortunate to lose, but every season eventually ends in a loss. That's the hardest thing. It is the end of four great seniors' collegiate careers, so that is emotional. I am proud of the hard work we have put in. We've had some tough challenges that didn't go our way this season, but they have always kept their head up and even though we didn't get the results, the hard work, the character and the fight was there. That is something that makes a coach really proud.
 
"The seniors have been really great. They're great students, they have always had a great attitude coming to practice everyday. It was wonderful to see Anastasia have a great win, she's really proud of the way she played and that's all you can really ask for. Douglas has been our captain and just a tremendous leader for us. Montana has the most wonderful personality, she's a great kid and it was beautiful to hear her play the National Anthem on the violin today. It is a tremendous gift that all of them have given to our program. Adrienne helping us finish out the season was really cool to see her finish on a good note as a Hawkeye." 
 
WISCONSIN 4, IOWA 1
April 22, 2018 | Iowa City, Iowa | 12 p.m. (CT) | Klotz Outdoor Tennis Courts 
 
SINGLES
1.     Elise Van Heuvelen vs. Lexi Keberle, unfinished 
2.    Sara Castellano def. Zoe Douglas, 7-6, 6-1
3.    Anastasia Reimchen def. MaryAnn Rompf, 6-1, 6-4
4.    Melissa Pick def. Adorabol Huckleby, 6-0, 6-2
5.    Montana Crawford vs. Kelsey Grambeau, unfinished 
6.    Michelle Linden def. Adrienne Jensen, 6-3, 6-1
 
DOUBLES
1.     Kaberle/Castellano def. Van Heuvelen/Reimchen, 6-3
2.     Douglas/Huckleby vs. Pick/Rompf, unfinished 
3.     Linden/Grambeau def. Crawford/Burich, 6-2
 
MATCH NOTES
Iowa: 10-14
Wisconsin: 9-14
Order of finish: Doubles (2, 1); Singles (3, 4, 6, 2)
 Wisconsin leads the all-time series, 41-10.