Hawkeye Fan Shop — A Black & Gold Store | Fight For Iowa | Hawk Talk Monthly — April
Editor's Note: The following first appeared in the University of Iowa's Hawk Talk Daily, an e-newsletter that offers a daily look at the Iowa Hawkeyes, delivered free each morning to thousands of fans of the Hawkeyes worldwide. To receive daily news from the Iowa Hawkeyes, sign up HERE.
By ANNE RILEY
hawkeyesports.com
IOWA CITY, Iowa — Athletes come and go, but the skills they gain and the impressions they leave stay forever.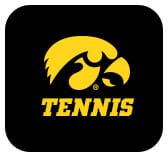 Zoe Douglas, Anastasia Reimchen, and Montana Crawford arrived on campus in 2014 and have found themselves amid many different teammates, coaches, and memories that they'll cherish forever. 
 
"The best part of being a Hawkeye was being a part of this team," Reimchen said. "The team has changed throughout the years. We've had different coaches and assistant coaches, but I've always had the same feeling of being part of a family, and being part of something really special."
 
Since 2014, the team has been a huge part of all three graduating seniors' lives. Their teammates and coaches have helped them develop immensely on and off the court.
 
"The best part was growing as a person," said Crawford. "I have come so far from being a shy freshman to a more confident leader on the team. My progression in tennis has been different from my freshman year. It has been awesome." 
 
"I've built a lot of trust with my teammates, said Reimchen. "They have made me a more confident person, which has impacted my game. This program pushed me in the right direction to come to terms with my capabilities and limits."
 
While the seniors see progress within themselves, they also hope to see the impression they left on campus continue throughout the team. 
 
"I have grown a lot," said Douglas. "I came here when I was 17 and a lot has changed. I am now leaving as team captain and I hope that I have left a good mark on the team and left some culture behind." 
 
"Above all," said Iowa head coach Sasha Schmid. "The mark that they will leave on the program is high character."
 
Schmid is confident that no matter what the seniors do next, they will thrive.
 
Reimchen plans to compete in professional tournaments for at least a year. She is currently in the process of finding a coach and a place to live. 
 
Douglas is taking part in a few practicums, one in San Diego and another with the Chicago Blackhawks, and will graduate in December. The England native hopes to find a job in the United States after she graduates. 
 
Crawford's goal is to be an elementary school teacher. She has one year of student teaching left and will continue to attend the University of Iowa. She hopes to be involved with the team next year.
 
Whether they stay in Iowa City or find a new home, they will still have a place on the team. As a common saying on campus goes — "Once a Hawkeye, Always a Hawkeye." 
 
The three seniors, along with Adrienne Jensen, a recent addition to the roster, will be honored during Senior Day at noon (CT) Sunday at the Hawkeye Tennis and Recreation Complex in their final home match against Wisconsin. Admission is free.