Hawk Talk Monthly — April 2018 | I-Club Events Page | Sign Up For Season Tickets | Photo Gallery | Video of Vanessa Jackson
By DARREN MILLER
hawkeyesports.com
CORINTH, Texas — On Thursday evening in Arlington, Texas, University of Iowa cornerback Josh Jackson will immediately ascend to the top tier of his vocation.
 
Jackson is expected to be a first-round selection in the NFL Draft. He will make more than a comfortable living playing a game he loves. Fame and fortune will follow the 22-year-old who grew up in Corinth, Texas.
 
But when Jackson returns to his childhood home, he knows what to do: grab a broom.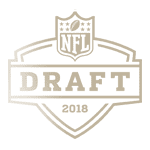 "I hear people say (the NFL Draft) is exciting, but gosh, when he comes home, he has to sweep the hallway," said Josh's mother, Vanessa.
 
It is peculiar how near-normal life has been for Vanessa in the moments leading up to the biggest day in her son's life. The NFL Draft is being held less than 50 minutes from the Jackson's 2,100 square foot home, but for Vanessa, her days still include taking her ninth-grade son to school, going to work, and picking grandchildren up from school.
 
"Then you are thinking about (the NFL Draft) and what could potentially happen with Josh," Vanessa said. "You are trying to balance what you have to do every day with this once-in-a-lifetime deal. It is amazing and exhausting at the same time."
 
Josh returned home four days before the draft and requested a meal from Vanessa. While his mother was cooking in the kitchen, Josh and his father, Paul, pulled into the driveway. They were holding bags from Whataburger.
 
"I said Whataburger? Are you kidding me? You asked me to cook," Vanessa said. "(Josh) said, 'I'll be hungry in a minute, don't worry, this is just an appetizer.' Sure enough, within an hour or an hour and a half, he was ready to eat what I cooked."
 
How incredible is Jackson's journey? Five years ago he was recovering from a fractured ankle and few college football programs were interested in the 6-foot-1, 195-pounder. Scholarship offers were limited, despite the fact Josh excelled at Lake Dallas High School and possessed ball skills and athleticism that would eventually make him a consensus Division I All-American.
 
Through it all, Iowa stood by his side.
 
"I think Iowa chose him," Vanessa said. "We were thinking that this dream of college football could be over if you're looking to go to a Division I school. But Iowa had been talking to him up to that point and even after he recuperated. Josh was very thankful for that opportunity."
 
But the Hawkeyes still needed to persuade Vanessa. She accompanied Josh on a recruiting trip to Iowa City and referred to the entire experience as "apple pie."
 
"I had the opportunity to talk to the coaching staff and coach (Kirk) Ferentz," Vanessa said. "We talked in his office for what may have been two hours. I was asking a lot of questions and it went on and on and on. He did not flinch. He answered every question, he asked if I had more questions, so that made a huge difference to me that he would allow me that time."
 
An outpouring of compassion and support throughout the Iowa City community was a bonus. The Jacksons went to restaurants and walked the pedestrian mall; everywhere they traveled, Hawkeye fans rolled the red carpet.
 
"We told people why we were (in Iowa City) and they were very open and inviting," Vanessa said. "I thought this could be a pretty good place to send my son.
 
"With the coaching staff and its focus on academics and their values, then to see that reflected in the community, meant a lot to me."
 
Josh's career didn't skyrocket immediately, but he was used to that. Vanessa called Josh a "finisher," even when city recreation league seasons began to tank.
 
"He had some dog seasons, not winning, winning two games, winning three games, but it was important to him that he went the distance with those teams and finished those seasons regardless if they were winning or losing," Vanessa said.
 
That approach served Josh well during his redshirt season at Iowa in 2014. And in 2015 when he played 14 games, but didn't start. And in 2016, when he saw action in 12 games, starting only the finale against Florida in the Outback Bowl.
 
"He always knew he had the ability," Vanessa said. "Like those seasons in rec league, just staying in the game, continuing to work, then when it's your opportunity and you get your moment, you have to step up and do what you have worked hard to do the whole time."
 
Josh made the most of his opportunity in 2017. He tied a school record with eight interceptions, broke up 18 passes, and made 48 tackles. He was named Tatum-Woodson Big Ten Defensive Back of the Year.
 
His next stop is the NFL.
 
"I want him to stay true to himself," Vanessa said. "He has shown remarkable maturity from the time he left in high school through the growth in his college career. I want him to stay on that continuum: to keep growing into the man I see him becoming.
 
"What you have done so far, the work you have done, the values you have shown, they will take you the rest of the way. He has a fearlessness, he has courage, he is kind. All those things will help him on his journey and those are fine things for him to take into those next steps. I'm confident he is ready and will do fine."
 
Regardless of how well he plays, how popular he becomes, or how much money he accrues, Josh would be wise to remember that a mother can always benefit from a helping hand. So whenever he returns to Corinth, Texas, a broom will be waiting.